Are you looking for a Teachable Coupon code to save a few bucks? If yes, then you have come to the right place.
Teachable Coupon Code (FEB 25% OFF)
Save Big On Teachable this February.
Get 25% Off on Basic and Pro annual plans.
Get 10% Off Basic and Pro Monthly Plans.
To be straightforward, Teachable doesn't offer any custom discounts or coupons. However, they run better savings from time to time.
Teachable is one of the best online course creation platforms that can help you create your very first course from scratch, and it will also help you in selling the course. You can teach your students the way you want to learn from a teacher.
But not everyone can buy Teachable right away because of their budget; that's why Teachable comes with a free plan. However, if you do decide to purchase the subscription to Teachable, then we have exclusive Teachable coupon codes that can help you save some money on your purchase.
In this post, we will mention all the available Teachable coupon codes and a detailed guide to claiming these coupon offers. So stick till the end to find out everything about this platform.
Let's get into all the juicy details.
Available Teachable Coupon & Discount (February)
Here we have mentioned some of the best Teachable coupon codes to help you save some chunks on your purchase.
Yearly Savings (Upto 25%). There is an ongoing offer available on Teachable where you can get a flat 25% off on all plans if you choose to pay annually. You need to pay for the whole year for the plan you've selected to get the discount. This is a good deal if you're planning to use Teachable for a longer period of time.
Coupon 2. If you use the coupon code "MAGIC10" at the checkout, then you can get an instant 10% discount on any of the Teachable plans. This discount will be applied every month for one year unless you cancel your subscription. You have to choose the monthly version of any of the plans to get the discount.
How To Claim Teachable Coupon Code (Step By Step)
Now, you know all the available Teachable Coupon code offers and the discount you can get from them. To help you claim these offers, we have prepared a step-by-step guide in this section.
Step #1: To claim the offer, you need to use this exclusive discount link which will take you to the official website of Teachable and activate the offer for you as well. On the homepage, you will see the pricing option; click on it to see all the pricing plans.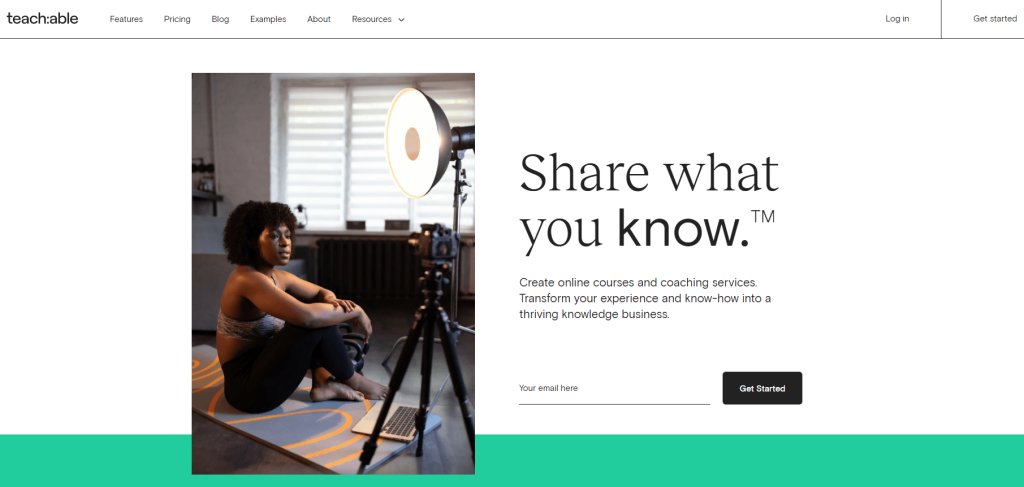 Step #2: You get four pricing options, including one free and three premium plans. You need to choose any one of the premium plans. For example, if you are planning to purchase the pro plan, then click on the "Select Pro" button.
Step #3: To set up your Teachable account, you need to fill in your email address in the box and then click on the "Proceed To Payment" button. As soon as you click on the button, it will ask you to enter your name, school name, password, and confirm password. Click on the same button to move to the next step.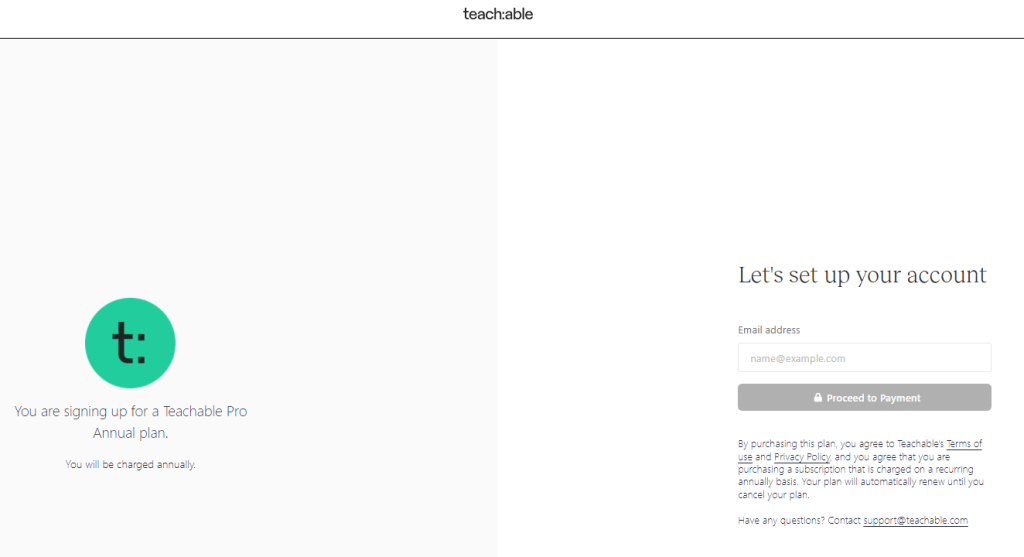 Step #4: On the checkout page, you will see the same pricing as it was shown in the pricing section. Click on the pricing, and it will open up the enter coupon code section, where you need to enter any one of the above coupons and click on apply, and you will see the discounted pricing.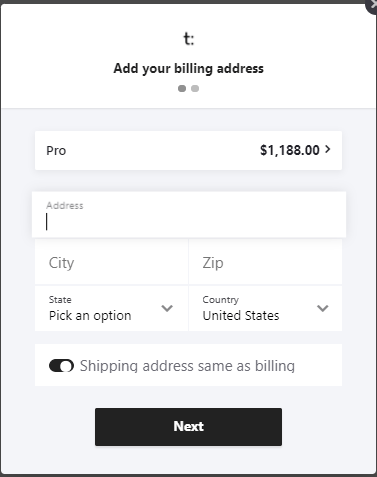 Step #5: In the last step, you will be asked to fill out your billing address which includes your address, zip code, city, country, and state. After that, you need to fill in your credit card details to complete the payment.
So there you have it, you've successfully purchased a Teachable subscription at a discounted price. Now you can create as many courses as you want and add as many students as possible.
Who Should Consider Using Teachable?
Teachable is a great platform for those who want to share their knowledge with the world. You can create amazing courses on Teachable and sell them online or offer free courses to the community. Teachable comes with a free plan as well, which allows you to enroll as many students as you want, but you only get to create one course with the free plan. Check the Teachable review to get more detailed insights.
You can create a whole school containing multiple courses and provide access to students for a certain amount. You can give access to your students in one go, or you can charge them through a subscription and provide your content accordingly. Some of the top SEO experts, like Matt Diggity, have created his course "The Affiliate Lab" on Teachable, and it is one of the best affiliate marketing courses of all time.
Teachable Pricing Plans
We have explained all four Teachable plans in detail below.
1. Free Plan ($0/month)
Transaction Fees per sale are $1+10%
One course creation
One Admin user
Access to Website & Builder
Referral Marketing
Integrated Payment Processing
Email Support
Unlimited Coaching & Students
Unlimited Hosting
Basic Quizzes
Student Referrals
2. Basic Plan ($39/mo or $348/year)
All Free Plan Features Plus,
No Restriction on course creation
5% Transaction Fees
Add unlimited videos to your courses
Access To Private Community
Launch Accelerator Training
2 Admin Users
Custom Domain Connection
Coupon Code Creation
Third-Party Integration
Access To Integrated Email Marketing Feature
3. Pro Plan ($119/mo or $1188/year)
All basic plan features plus, 
No Transaction Fees
Daily Payouts
Live Chat Support
5 Admin Users
Zapier Actions
Certificates Creation Feature
Upsells
Course Compliance
Live Group Coaching Feature
Advanced Reports
Unbranded Website
Public API
4. Advanced Plan (Contact Sales)
All-Pro Plan features Plus,
Custom Admin users
Custom User Roles
Advanced Developer Customization
Bulk Import Students
Integrated Affiliate Program
Graded Quizzes
These are the available pricing plans and the features you will get with each plan.
Teachable Pricing Comparison Table
| | | | | |
| --- | --- | --- | --- | --- |
| Features | Free | Basic | Pro | Advanced |
| Pricing | $0 | $39/mo | $119/mo | Contact Sales |
| Users | 1 | 2 | 5 | Custom |
| Courses | One | Unlimited | Unlimited | Unlimited |
| Students | Unlimited | Unlimited | Unlimited | Unlimited |
| Public API | No | No | Yes | Yes |
| Custom Domain | No | Yes | Yes | Yes |
| Theme Customization | No | No | No | Yes |
| Email Marketing | No | Yes | Yes | Yes |
| Launch Accelerator | No | Yes | Yes | Yes |
| Live Group Coaching | No | No | Yes | Yes |
Related Read:
Conclusion: Teachable Discount Coupon (2023)
So this is our complete article on the Teachable Coupon code. Now the only question remains: Why should you consider Teachable?
The answer to this is really simple. Online courses are the future of learning, and the majority of students use them. Traditional learning is all good, but to get more insights into a subject or a skill, students always tend to buy online courses, and if you're planning to create an online course, then there is no better platform than Teachable. It is a dedicated course creation platform, so you don't have to worry about anything because it will give you everything you need in one place.
We hope you can save a few bucks on your purchase with this Teachable Coupon code. Let us know your thoughts on this in the comment section below.
FAQs on Teachable Coupon & Promo
Can I use Teachable for free?
Teachable offers a free forever plan, which allows new users to get started with Teachable for free. In this plan, they will get all the features to create their course from scratch.
How much maximum discount can I get on Teachable?
Teachable offers discounts and coupons occasionally. Right now, you can save up to 25% if you choose to pay annually for any of the teachable plans. You can also get an additional 10% off if you use the above coupon we have mentioned.
Can I get a refund on Teachable?
If you ask for a refund within 30 days of the purchase of your Teachable subscription, then you can easily get a refund. However, if you miss this deadline, they will deny any refund request you will make.
How many courses can I create with Teachable?
The free plan allows you to create only one course, whereas you can create as many courses as you want with the premium plans.
What is Launch Accelerator on Teachable?
The Launch Accelerator is a new tool that has recently been added to Teachable. It can help you launch & sell your courses within 30 days.