There are a plethora of choices when it comes to selecting one of the best eCommerce platforms. The world has quickly adopted the advantages of online business for fast and simple operations. With the right goods and services, business owners have an unlimited number of opportunities to convert customers.
If you're a business owner considering going online, you'll need a few essential tools first. The most important one is the E-commerce platform. Your e-commerce platform will empower you to create the ultimate sales website with your own brand image, category pages, converting tools, and a customized payment gateway.
DemandSage's Recommendation — Shopify
Shopify is the best eCommerce platform for beginners to get started with.🎯
Shopify is offering a 3-day free trial and a 3 months trial for $1/month.🔥
Choosing the right e-commerce platform is of utmost importance. The choice you are going to make will be a maker or breaker of your online business; this is why we are curating this article.
Today, we'll look at some of the most trusted and popular e-commerce platforms that you can go for right away to craft the website for your dream business.
Excited? So are we! Let's get into it.
How We Came up with This List!
This list of top e-commerce platforms is the outcome of extensive research.
We can suggest them to our audience because we rigorously checked each one.
We examined numerous e-commerce platforms. These are some of the metrics we looked at while curating this list.
Third-Party Software Integration: e-commerce platforms allow third-party software integration to create excellent add-ons that significantly enhance the user experience for both retailers and customers.
Mobile Responsive: Users are increasingly shopping from their smartphones and tablets. This means that an e-commerce website must be mobile responsive. Failure to ensure this may result in your potential clients choosing your competitors.
Pricing: We looked at pricing plans because we understand how important costs are when running a business online. You will only see the platforms which will be bang for your buck in this list.
Other features we considered were SEO capabilities, Security, HTTPS/SSL certifications, etc.
Top 15+ E-commerce Platforms Of 2023: Our Top 5 Picks
This comprehensive list of top e-commerce platforms as of 2023 is free of any compromise. If you don't have the time to go through the complete list, then here is a brief overview of our top 5 recommendations.
| | | | |
| --- | --- | --- | --- |
| Sr. No. | eCommerce Platforms | Best For | Rating |
| 1. | Shopify | Best For All Types of Businesses | 4.9/5 |
| 2. | Wix | Best for online stores with less than 100 products | 4.8/5 |
| 3. | Squarespace | Best for creating an online store to target one niche | 4.7/5 |
| 4. | WooCommerce | Best for WordPress users to create an online store | 4.6/5 |
| 5. | BigCommerce | Best for enterprise-level online stores | 4.5/5 |
Here is a complete overview of all the eCommerce platforms. Find your best e-commerce platform today with us!
1. Shopify
Note: We have already done a detailed Shopify vs WooCommerce comparison here.
Shopify is undoubtedly the most well-known e-commerce platform in the world.
It has a global presence, allowing business owners from all over the world to sell online. Millions of businesses use Shopify's sleek features to connect with their customer base.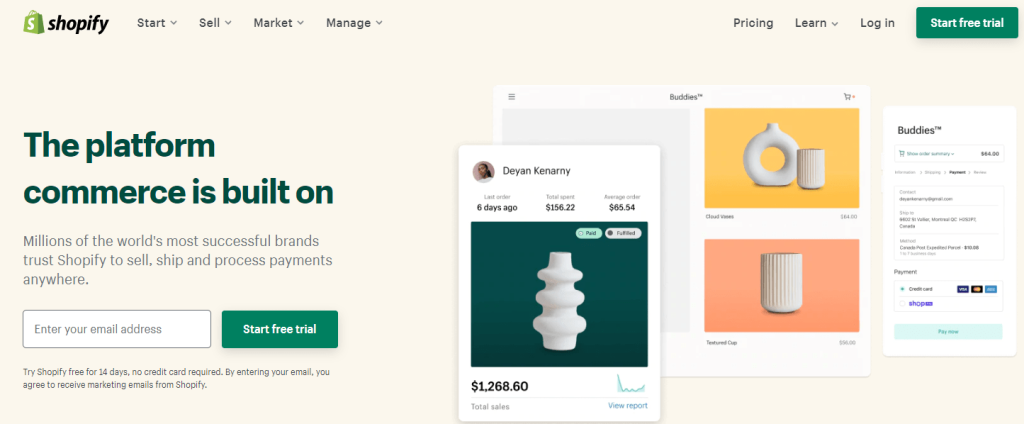 Shopify is on top of this list for a variety of reasons. The platform is simple to use, with drag-and-drop pages, personalized checkout options, and a wealth of instructional videos and guides to get you up and running. There are also numerous ways to grow your business, with thousands of add-ons, plugins, and integrations available in the Shopify marketplace.
Features
70+ Professional Themes: Designed by professionals globally
Mobile Responsive: Your Shopify store can be browsed through any smartphone/tablet
Complete Blogging Platform: Make catalogs, post and categorize articles, promote engagement, and moderate comments on your Shopify blog.
Free SSL Certification: Each store gets a free 256-bit SSL certificate.
A ton of Payment Gateways: Shopify blends with 100+ external payment gateways globally, including $BTC, PayPal, iDEAL, etc.
Dropshipping: Shopify combines with dropshipping apps such as eCommHub, etc., to make it simple to start a dropshipping business.
SEO: Rank your website higher in search results by optimizing it with Shopify.
Web Hosting Features: Unlimited Bandwidth, Level-1 PCI compliant, sitemap.xml, etc.
Other Notable Shopify Features
24/7 customer support
Work with a Shopify expert
Domain Purchasing
Automatic Taxation
Multi-lingual support
Social Media Integration
Inventory Management
Google Analytics
And much more
Pricing
Choose from 3 plans provided by Shopify for all types of business needs. Check the detailed Shopify pricing breakdown here.
Basic Plan: This plan costs $29/month. With this plan, two admins can access the Shopify store and assign up to 4 inventory locations to your store. This plan has all the primary features required to start a new store.
Shopify Plan: The cost of this plan is $79/month. With this plan, five admins can access the Shopify store and assign up to 5 inventory locations to your store. This plan is ideal for growing businesses.
Advanced Plan: This will cost you around $299/month. Although it's a bit pricey, it is excellent for scaling your business to the next level. With this plan, 15 admins can access the Shopify store and assign up to 8 inventory locations to your store.
2. Wix
Note: Check Our detailed Webflow vs Wix comparison here.
Wix is a well-known website builder. It is well-liked for its simplicity and adaptability.
The Wix solution is well-known for being highly adaptable and efficient, with numerous options for customizing and personalizing your next business site.
Wix has some unique features in the e-commerce space, such as access to ADI (artificial intelligence) to assist you in building your website. There are also numerous payment options, an infinite number of themes with smartphone optimization, & much more. You can also Optimize your website for the search engine using its SEO tools as well as advanced blogging features.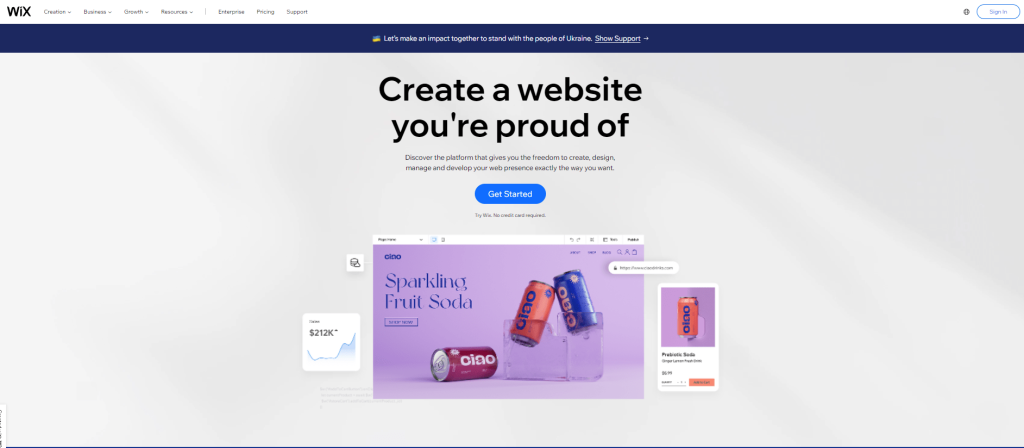 Wix is one of the most sophisticated solutions in the market, It's gaining popularity among entrepreneurs of all backgrounds. Because the Wix Editor is so customizable, you can bring any layout to life in a distinctive manner. For developers, there's even the new Wix Velo platform.
Features
Wix Editor: Choose from 500+ templates for your website.
Advanced SEO tools: Increase organic traffic with built-in SEO tools, configurable meta tags, and other features.
Animations: Use animation, video backgrounds, and scroll effects to bring your website to life.
Smartphone Responsive: Wix lets you make responsive websites that look great on any device you access it from.
Unlimited Fonts: You get access to a number of fonts with customizable colors to match the theme of your website.
Velo: It is a free and open development platform by Wix for sophisticated web applications. Go ahead with your next website with serverless computing, coding, and complete design freedom.
Other Notable Wix Features
Domain Name Purchases or connect your own.
Free web hosting
Analytics
IDE and DevOps
Seamless connectivity with third-party API
Free SSL certification
TAX management
And much more.
Pricing
Connect Domain Plan: It is the most basic plan from Wix, which will cost you $12.36/year. This is an ad-supported plan. You get 1 GB of bandwidth with 500 MBs of storage space under this.
Combo Plan: This plan will cost you $19.32/year and is best for personal use. You get a bandwidth of 2GB and storage space of 3 GB.
Unlimited Plan (Most Popular): You get unlimited bandwidth with 10 GB of storage space under this plan. This plan will cost you $28.56/year. It is ideal for Entrepreneurs & Freelancers.
VIP Plan: The most premium plan of Wix with all the features. It costs $50.28/year. Under this plan, you get Unlimited Bandwidth with 35 GB of storage space.
These are the pricing plans of Wix, you can also save a few bucks on your purchase with our Wix Promo Code.
3. Squarespace
Squarespace is a trusted name in the e-commerce market. It is one of the most popular tools for creating visually appealing websites.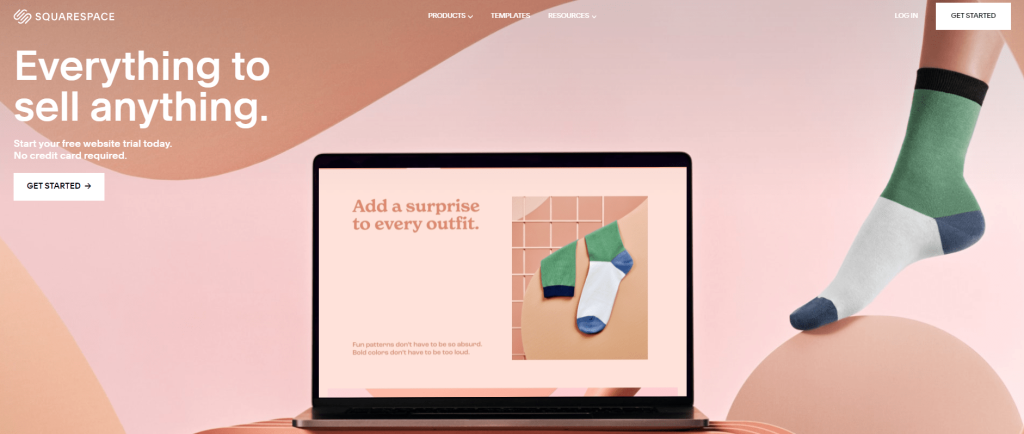 Squarespace allows you to create the website of your dreams in minutes, using the drag-and-drop functionality. It enables you to set up a website without learning to code or finding a website host. It has some of the best themes in the website builder environment, as well as a slew of powerful features such as built-in SEO tools, Analytical tools, Traffic overview tools, etc.
Features
More than a ton of themes: Squarespace enables your concept to stand out online by using templates by world-class designers
Portfolio Designs: Squarespace's professional portfolio layouts are a great way to show off your work.
Blogging Tools: Use Squarespace's powerful blogging tools to share stories, and news and announce product releases.
SEO Tools: Every Squarespace website has a number of built-in SEO features and helpful guides to boost your organic traffic.
Analytical Tools: Through Squarespace's analytical tools, you can check the source of your website traffic and check how they are engaging with your content.
Smartphone App: You can manage your Squarespace websites through their powerful mobile application available for both iOS and Android.
Video Studio App: Create and share amazing videos through this app to drive more sales and traffic.
Pricing
Users get four options to choose from. WIth our Squarespace promo code, you can get an exclusive discount on these plans. The pricing plans are explained briefly below. You can also signup for Squarespace 14-day free trial.
Personal Plan: This plan will cost you $14/month, and you can havetwo2 admins only on a website. Access to the video studio app is also limited.
Business Plan (Most Popular): Costs $23/month. There is no limit to the number of admins on a website, and you get full access to the video studio app along with many other features.
Basic Commerce Plan: This will cost you $27/month. You get all the features from the Business plan + additional features. There is no limit to setting up admins in this pan too. You get full access to the video studio app.
Advanced Commerce Plan: The most premium plan from Squarespace will cost you $49/month. All the features are unlocked under this plan.
4. WooCommerce
WooCommerce is an open-source plugin that allows websites built on WordPress to sell stuff and accept payments, and it's one of the best ways to turn your WordPress site into an e-commerce project. WooCommerce basically involves everything you'll need to get an e-commerce site up and running.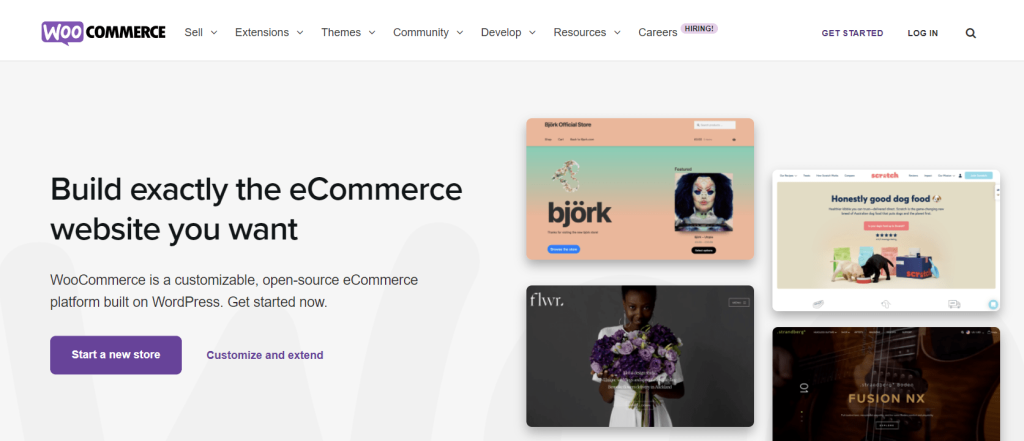 WooCommerce is popular among SMEs and entrepreneurs because of its versatility and ease of use. You can create your e-commerce site within the WordPress environment, which most of us are already familiar with. You also get access to the WordPress API as well as its extension library. This means there are a plethora of options for improving your customers' online shopping experience. You can even use your WooCommerce store to participate in dropshipping.
Features
Fast Setup: Setting up WooCommerce on WordPress takes minutes. After that, you can easily add all pages and other elements to your site.
Secure and Flexible Payment Options: WooCommerce includes the ability to accept major payment options such as PayPal, Debit/Credit cards, COD and bank transfers, Amazon/Apple pay, etc.
iOS and Android App: WooCommerce has applications on both Ios and Android platforms to allow you to manage the business on the go.
Third-Party Extensions: Tons of paid and unpaid extensions such as Yoast, Amazon FBA, Stripe, etc., are available on the WooCommerce marketplace to enhance your store's functionality.
WooCommerce Docs: WooCommerce offers detailed docs & public forums to help you with any questions you might have.
Jetpack: This feature will help you secure your website with validated customer logins, phishing, and cyberattacks and boost performance.
Pricing
WooCommerce is a completely free-to-use tool.
5. BigCommerce
BigCommerce is one of the most customizable e-commerce platforms globally. With a variety of versatile features, SaaS solutions can adjust and expand your business. You can even integrate your store with Instagram, eBay, Facebook, Target, Google, and Wish.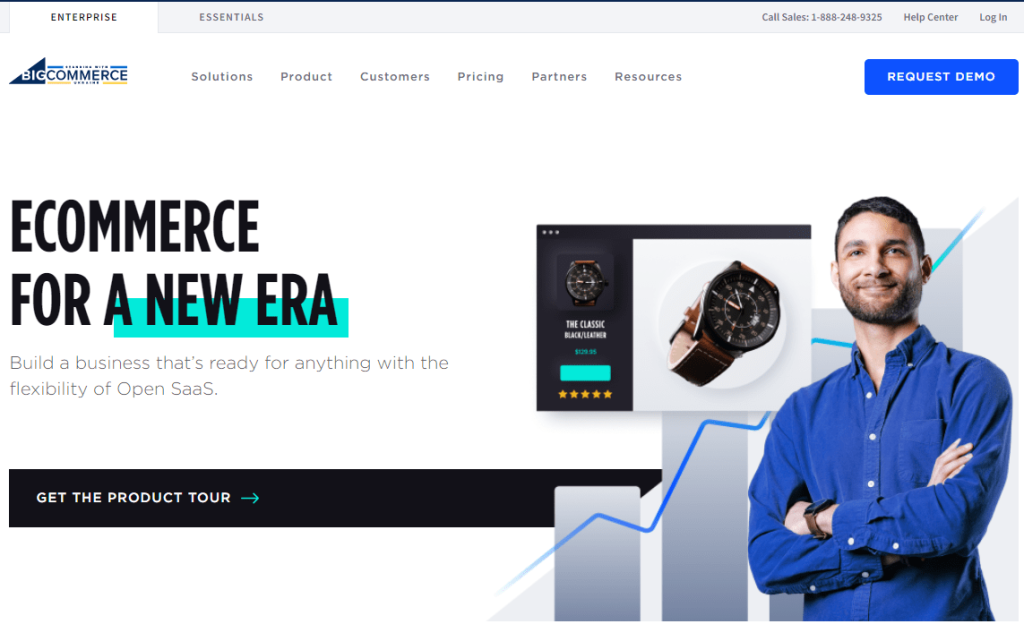 BigCommerce provides you with a variety of themes and tools to help you create the perfect website for your business. The adaptable system includes lots of good security features to protect your operations, as well as a variety of analytics to help you figure out what's working. Developers who love headless architecture have a range of possibilities too.
Features
SEO: Rank higher in search engine ranking with best SEO practices such as HTTPS, search-friendly themes, metadata, Sitemap.xml, etc.
Blogging: Drive traffic to your website and move up in google rankings with a content-rich blog post.
Dedicated SSL Support: It is an important feature as it allows users to stay on your site throughout their checkout process. Customers feel extra safe.
Email Marketing: Connecting your online store to renowned email marketing platforms such as Listrack, Mailchimp, etc., is simple with BigCommerce.
Responsive Templates: Make a website that looks good on any device.
E-commerce Experts: You can take the help of website building professionals globally. These professionals have helped build online stores for some of the world's finest brands.
Pricing
Users get four options to choose from. You can check the working BigCommerce coupons. Here's the detailed pricing breakdown.
Standard Plan: Ideal for Beginners, this plan will cost you $29.95/month.
Plus Plan (Most Popular): Ideal for SMEs, this plan is the most purchased plan of BigCommerce. It will cost you $79.95 to get this plan.
Pro Plan: Ideal for established businesses who want to scale their operations. This plan costs $299.95/month.
Enterprise Plan: If you find the above Plans unsatisfying, you can get a customized plan for your brand. Get in touch with BigCommerce's customer support to get the quotation.
6. Zyro
Zyro is an intuitive platform that enables people to create websites efficiently and simply without having to know how to code.
Zyro makes it simple to create a unique business website. You can establish e-commerce stores with Zyro with ease by using its drag and drop builder, Zyro also has a few top-notch features, such as an AI content generator, AI heatmap, and a logo builder, that eliminate the need for professional help.
Here is a list of Important Zyro Features
Features
Drag and drop website builder: Zyro has an awesome drag ad drop builder that lets you add components to your website easily and quickly.
Free Web Hosting: Zyro is the child of Hostinger, A renowned hosting provider. Whichever Zyro plan you choose, you will get free hosting on it. Even the most basic plan.
Integration with Ecom Giants: Don't be limited to your website; unlock possibilities by selling across Amazon, Facebook, and other marketplaces.
Easy Management: Zyro will help you in managing your inventory, calculating taxes, and shipping with its automatic tools.
Payment Methods: Sell globally with over 70 payment methods across 200 Nations.
Mobile Responsive: Build websites that look great on every device.
SEO: With its integrated SEO tools, you can aim for the top ranks of search engines.
Pricing
Users get three plans to choose from. Here are they
Website Plan: Ideal for creating a personal website, this plan costs you around $2.61/month.
Business Plan: Ideal for setting up e-commerce stores, this plan will cost you $4.41/month.
Advanced Store Plan: Ideal for sellers who wish to scale their business further, this plan will cost you $14.31/month.
7. ShopWired
ShopWired is quickly growing in popularity as an e-commerce platform.
It caters to users all over the world and ranks highly in terms of features, efficiency, ease of use, and other factors.
It's comparable in price to major competitors such as BigCommerce. Many of the features that other platforms offer at a fee are free with ShopWired. You can recover a lost cart and get ratings and reviews for free with Shopwired.
The loading speed of Shopwired stores is also very fast, averaging 1.4 seconds.
Features
Themes: Shopwired has truly some amazing themes in its collection that can help you make your store stand out.
Smartphone Optimized: shop wired stores look awesome on every device they are accessed from.
Customize HTML and CSS: this allows you to take more control of your website and make some advanced customizations.
SSL rated secure: All ShopWired stores are kept safe under 256-bit encryption 
Over 40 Payment Gateways: Shopwired supports major payment options.
SEO and Site map: don't just get online. Make yourself seen with proper SEO and site mapping with shopwired.
Social Media Integration: Integrate your e-commerce website with Facebook, Instagram, Twitter, etc.
Pricing
Users get four plans to choose from on Shopwired; here are they
Pro Plan: This plan will cost you £29.95/month. It is ideal for getting started with e-commerce.
Advanced Plan: Costing £69.95/month, this plan is ideal for growing your business further.
Premium Plan: This plan costs £129.95/month and is suitable for industry-leading people.
Shopwired Enterprise Plan: This plan costs £199.95/month and is suitable for large-scale operations. You also get help from some of the industry's finest support engineers to grow your business.
8. Square Online
Square, a behemoth in the digital payment sector, acquired Weebly back in 2018. Weebly is a website builder. Square Online is the baby of the Square+Weebly group.
Square online looks a lot like its predecessor (of course); however, it offers a set of great new features to set up your e-commerce website effortlessly.
Let's take a look at them in brief below
Features
Set up store in minutes: Their easy-to-use website builder helps you create great websites without needing to have any coding knowledge.
Supports multiple businesses: Square online can handle shipping, order pickup/delivery, and even QR code ordering.
Payment Gateways: being a company owned by a payment processing giant, Square online has all kinds of payment options available.
SEO: Rank your e-commerce website among the top web stores on google with integrated SEO tools.
Website Designs: Square online's website designs are specially crafted to drive more sales for your online business.
Pricing
Square online lets its users choose from 4 different plans out of which one is completely free to use.
Free Plan: experience using square online free with this free plan.
Professional Plan: This plan costs $12/month and is ideal for elevating your brand.
Performance Plan: This plan is billed at $26/month and is ideal for driving growth in your business.
Premium Plan: This plan costs $72/month and is ideal for scaling your business to the next level.
9. Magneto Commerce
Magneto is yet another great option to consider if you want to take your business online. It is one of the top 5 e-commerce platforms in the world, but We have listed it so down below on our list due to just one reason, you need to have the technical knowledge to set up our store.
If you want a full drag and drop solution for your business, then Magneto is not for you, but if you enjoy working on PHP, it can't get better than Magneto.
Here is a list of some of its great features.
Features
Highly Customizable: Being an open-source platform, Magneto lets you craft a website that is customized to the very last thread.
Mobile Responsive: Websites created with Magneto are highly mobile responsive.
Mobile Application: Magneto also has a mobile app that will help create a fulfilling UI.
Web Integrations: Integrate third-party addons like Google Analytics, Paypal, Mailchimp, etc., with ease.
SEO: Rank your website higher in search engines by adding meta titles/descriptions, alt tags, sitemaps, etc.
High Speed: Websites made with MAgneto load super fast.
Pricing
Magneto does not offer a specified plan to its users. They believe not one size fits all and give a custom plan to every user. You have to contact their customer support to get a quotation.
10. Elementor
WordPress' flagship e-commerce theme, WooCommerce, is used by 24% percent of all web stores. However, if you don't know how to code, creating a WooCommerce site can be difficult. Unless you use Elementor, that is.
Elementor is an intuitive website builder that allows people to create beautiful WordPress websites without having to learn to code.
Users can create unique online stores by combining various Elementor features and widgets.
Features
Live Editor: Design your e-commerce store from scratch in minutes with Elementor's live editor.
Landing Pages: Craft pixel-perfect landing pages to drive more sales to your business.
Templates: Elementor offers high-quality designer templates that can make your store look professional.
Academy: Users get access to Elementor academy, where they can learn web creation skills for free.
SEO: Elementor websites are optimized for speed and performance, ensuring both your visitors and web crawlers are satisfied.
Pricing
Users get four options to choose from
Essential Plan: This plan costs $49/Year and lets you work on 1 website.
Advanced Plan: This plan costs $89/Year and lets you work on 3 websites.
Expert Plan: This plan costs $159/Year and lets you work on 25 websites.
Agency Plan: This plan costs $399/Year and lets you work on 1k websites.
11. 3D Cart
A veteran of the e-commerce industry, 3D cart websites have served millions of customers to date.
3D cart has all the features required to set up an online store and get it running. From well-designed templates to powerful SEO tools, 3D cart will help you take your business online with ease.
Let us take a look at 3D cart's features in brief real quick.
Features
Designs: 3D cart have well-crafted designs for your web store that will not only look great but will also drive sales.
Mobile Responsive: Your 3D cart website will never look bad no matter which device you log in from.
Security: 3D cart provide PCI-certified hosting and SSL certification for all its websites.
Scalability: The ability to use third-party add-ons on your store lets you scale your business to another level with ease.
SEO: power your website up the Google rankings with powerful SEO tools.
Pricing
You won't believe this, but it is true. You can use 3D cart for free for a lifetime.
12. Big Cartel
Another great eCommerce platform on our list is Big Cartel. It is a completely hosted eCommerce platform, just like all the others on our list. This platform is specially created for artists, designers, crafters, and businesses you usually see on Etsy. If you want to sell very few items online, then it is a great platform for you. It offers you customizable templates, marketing tools, and free domain name registration with its subscription plans.
It is a budget-friendly option that is really good for technophobes and beginners. It comes with a lot of prompts and reminders that can help you easily set up your store. However, Big Cartel lacks in offering website features because there are only a few of them available. It is also restricted to only one language. There are not many features available to help you grow.
Features
Free customizable themes
Sell Online & In person
Real-time stats
Offer discounts & coupons
Shipment Tracking
Sales Tax Autopilot
Theme Code Editing
Custom Domain Connection
Five Images Per Product
Pricing
There are three pricing options available on Big Cartel.
1. Gold Plan: This is a free plan where you're allowed to use one image per product, and for it, you don't need to give any card details.
2. Platinum Plan: This plan costs $9.99/mo, and you don't need to pay any listing fees on it.
3. Diamond Plan: This plan costs $19.99/mo and allows you to add up to 500 products.
13. Volusion
Volusion is a great eCommerce platform for those who are involved in dropshipping businesses. You can also start a dropshipping business from scratch on Volusion. It has over 80K products for dropshipping and dedicated dropshipping tools that can help you compare the pricing of the products. Using these tools, you can find products to dropship that offer better profit margins. If you don't want to sell physical products, then this platform also allows you to sell digital products as software.
The interface of Volusion is straightforward and easy to use. You can create your eCommerce store using free themes from Volusion, and its drag and drop builder allows you to elements to your store with ease. Using their advanced inventory tracker, you can keep track of your inventory and get notifications whenever your inventory stock goes low. You can use Volusion's store management app to manage your online store on the go.
Features
Mobile Friendly Themes
Customizable Layouts
Add a search feature to your store
Product Display Options
In-house Design Services
CSS/HTML Editor Access
Homepage Slideshow
Favicon & Logo Upload
Product Variant Pricing
Pricing
Volusion has three pricing options and one custom pricing option, for which you will need to contact their sales team.
1. Personal Plan: This plan costs $35/mo or $31.50/mo, billed annually, allowing you to sell 100 products maximum.
2. Professional Plan: This plan costs $79/mo or $71.10/mo, billed annually, allowing you to sell 5,000 products maximum.
3. Business Plan: This plan costs $299/mo or $269.10/mo, billed annually, allowing you to sell unlimited products.
14. Sellfy
Sellfy was launched as an eCommerce platform where you can sell only digital products, but over time they have made many changes and introduced many features. Now you can sell physical, digital products, or both on your online store. This platform is great for small business owners to create an online store and sell their products. It is also famous among content creators, and they are selling their merchandise using this eCommerce platform.
Photographers, digital creators, and music producers can easily create an eCommerce store on Sellfy and sell digital downloads. You can sell eBooks, videos, audio files, photographs, and any digital file you want. To get started, you just need to create an online store, customize your store's design, connect the store to a custom domain, add products, add payment methods, and start selling online.
Features
Sell subscriptions and products
Create a storefront in five minutes
In-built marketing features
Embed the "Buy Now" button
Use Payment gateways like Stripe and PayPal
Optimize your website for mobile devices
Sell on-demand videos
Customize your website and products
Convert the language of your store based on the customer's location
Pricing
There are three plans available on Sellfy, and a 14-day free trial on all the plans.
1. Starter Plan: This plan costs $29/mo, $264/year, or $456 for two years, and you can earn up to $10k every year with it.
2. Business Plan: This plan costs $79/mo, $708/year, or $1176 for two years, and you can earn up to $50k every year with it.
3. Premium plan: This plan costs $159/mo, $1428/year, or $2376 for two years, and you can earn up to $200k every year with it.
15. Ecwid
Ecwid is one of the best eCommerce platforms you can use for free. It is also unique from most eCommerce platforms because it simply lets you add eCommerce features to an existing website turning it into an online store rather than creating a new online store from scratch. Using Ecwid features, you can sync your offline and online store and sell across different marketplaces and social media platforms.
Ecwid recently added new features, such as Instant Site, where you can create a one-page website instantly. Ecwid is also known as the best alternative to WooCommerce because many of its features are similar. You can use its HTML code to add all of its features to your existing WordPress website. Now you can add products, create a shopping cart, sell your products, create landing pages, and more on your website.
Features
Inventory management
Simple checkout process
Save your favorite product option
Highly customizable storefront
Customer address book
In-built ad management
POS Functionality
Multichannel selling
Abandoned cart saver
Pricing
Ecwid offers three premium plans and one free plan, and they are as follows:
1. Venture Plan: This plan costs $19/mo or $169/year and allows you to sell up to 100 products on your online store.
2. Business Plan: This plan costs $39/mo or $349/year and allows you to sell up to 2500 products on your online store.
3. Unlimited Plan: This plan costs $99/mo or $990/year and allows you to sell unlimited products on your eCommerce store.
Why Are Online Stores Crucial for Brands and Businesses?
The e-commerce industry is rapidly expanding. Global e-commerce sales accounted for $4.9 Trillion US dollars in 2021. Consumers are starting to recognize the benefits of shopping online, and some are even taking it a step further by shopping directly from their mobile phones.
It used to take a lot of effort to sell products online earlier. However, modern technology has made it possible to create an online store in minutes. Back in the day, You had to hire a programmer to build the website for you; now, anyone with basic tech knowledge can set up a store and get it running.
With the presence of platforms like Amazon, eBay, Facebook, etc. Why start an online store if you can simply upload your products to these marketplaces?
Here is why:
Brand Building
Having your e-commerce marketplace distinguishes you from the competition.
It gives you complete control over how the store appears and how customers interact with it. The way you present your products impacts the customer's experience and helps you establish trust. You can create a brand image when you have a store, unlike the marketplace where every other product has the same display Interface as others.
Customer Data Collection
A consumer disappears if they look at your products on Amazon but don't buy anything. However, when a consumer visits your online store, you have the option of requesting their email id. The ID will be necessary for your email marketing campaign, which is important enough to warrant a separate article.
You can even Retarget these customers by creating custom advertisements on social media and Google.
Repeat Purchase
Statistics show that 50 percent of Shopify stores get repeat purchases.
You can give special treatment to your visitors on your web store, from exclusive discounts to one-on-one customer service. This not only builds trust in a brand but also increases the purchase rate of consumers. This is why Shopify stores have such a high repeat purchase rate.
The more a customer trusts you, the more likely they are to make a purchase and return.
Which E-commerce Platform Is Ideal for me?
Every e-commerce platform has different features that might or might not benefit your online business. Some may offer a plethora of options that you don't require. Or maybe you need something a little more high-tech so you can cater to your customers' specific needs. Making the right decision up front can save you from switching between platforms and deal with the inconvenience that comes with it.
We recommend going for Shopify; it has a perfect balance of all the essential features required for setting up an e-commerce place for all your needs. Whether you are a Solopreneur, an SME, or a large-scale business, Shopify has plans for all categories.
Related Read:
Conclusion: Best eCommerce Platforms (2023)
Hopefully, this post gave you a better understanding of some of the best e-commerce platforms and tools available in 2023. We also review products and give out the best deals in the e-commerce world. You can check all the latest posts in our blog section. Some amazing offers are waiting for you if you choose to buy one of the products mentioned in the list above.
FAQs
Which is the best eCommerce platform?
It all depends on your business, you may get better features in an eCommerce platform that suits your business but isn't the same for other businesses. To find the best eCommerce platform for yourself, you need to consider its features, budget, and multichannel selling feature. Our recommendation for the best eCommerce platforms is Shopify, Wix, Squarespace, and BigCommerce.
Which eCommerce platform is the best for dropshipping?
If you want to start a dropshipping business, then Shopify would be the best eCommerce platform because it has the best dropshipping app called Oberlo.
Can I start a B2B eCommerce store with these eCommerce platforms?
Yes, you can start a B2B eCommerce store with any of these platforms and sell services or products to businesses. Shopify would be the best option for you to start a B2B eCommerce store.
Which is the most affordable eCommerce platform?
The most affordable eCommerce platform is WooCommerce because it is completely free of cost. All you need to do is create a website on WordPress and install the WooCommerce plugin to create your online store.
Which eCommerce platform offers better SEO features?
BigCommerce offers the best SEO features for your online store, so it would be a great option for your online store to rank on the search engines.