Are you wondering if Grammarly Free vs Grammarly Premium offers the same benefit? Is it worth buying Grammarly Premium? Well, I have used both Grammarly free and Grammarly Premium and might have the answer to your question.
In this comparison review, I have shared the main differences between Grammarly free and Grammarly Premium, best suitability, and the benefits of using Grammarly.
Grammarly Discount Code [May 2022]
Get FLAT 20% Off on Grammarly Premium Plans. Valid for everyone — writers, students, bloggers, etc.
You can catch the verdict to "Grammarly Free vs Grammarly Premium" in the end!
Grammarly: At A Glance
Grammarly is an AI-powered personal writing assistant that ensures to neglect your flaws away. In Grammarly, you get handy tools like punctuation detection, error correction, word enhancement, and enhanced readability.
It is typical to say that Grammarly is a writer's best friend because of all the helpful features that Grammarly is built with, including a plagiarism checker and expert help.
New Updates: Grammarly Free vs Grammarly Premium
Keeping up with the changing trends, Grammarly is constantly updated with exciting features and added benefits. Watch out!
Grammarly Free Updates
As of now, the standard version of Grammarly that is rolled out for free is not disrupted, which means all the new changes have been integrated into Grammarly Premium only. Grammarly Free continues to provide the same benefits.
Grammarly Premium Updates
In Grammarly Premium, there are a bunch of updates that have been announced. Let me recall it all so that you are aware of the new updates in Grammarly Premium.
You can adjust the formality level with other domain settings in Grammarly Premium, wherein any other tone that you want your content to sound like can be achieved easily. The options are business, creative, technical, casual, and general.
Plus, you can set goals in the newly updated Grammarly Premium. With goals, you get a personalized writing experience to fix your target audience.
If you are writing a professional article with extraordinary keywords, then Experts can be set as the ideal goal. You can set it up on General for general use, and for slightly informative content, you can switch it back to Knowledgeable.
In fact, Grammarly has also added graphical emojis with tone detection.
Grammarly Free vs Premium: What's The Difference?
Although Grammarly Free and Grammarly Premium are two different versions of the same application, the software did not restrict the standard version fully.
In terms of comparison, Grammarly Premium provides more benefits than Grammarly Free for obvious reasons since the standard version is free.
All the basic features like tone detection, error correction, enhanced readability, and punctuation are enabled with Grammarly Free. In contrast, Grammarly Premium has advanced features like genre-specific suggestions and a plagiarism checker.
Although the two excelling features in Grammarly Premium might seem like an average feature, the result is game-changing.
Usually, a plagiarism checker is an in-demand feature for most writers because a writer might accidentally use plagiarism in their work unintentionally.
Plus, plagiarism checking software is quite expensive, and Grammarly Premium gives it on a budget. Even the genre-specific suggestion is beneficial because you might have written wordy sentences throughout, but this will fix it.
What Do You Get With Grammarly Premium? (Value Added Features)
It is evident that Grammarly Premium is on the higher-end with value-added benefits and so you can expect a smooth butter-like experience with Grammarly Premium. We at DemandSage use Grammarly premium for all our proofreading work.
If you are not aware of the best features in Grammarly Premium yet, let me take the honor of disclosing it all to you. In Grammarly Premium, you get:
Advanced Genre-Specific Suggestions
As the name suggests, it is pretty obvious to say the role of the genre-specific suggestions features in Grammarly Premium.
Say you have compiled a formal article, then Grammarly Premium will scan through the content fully and recommend words according to the desired genre.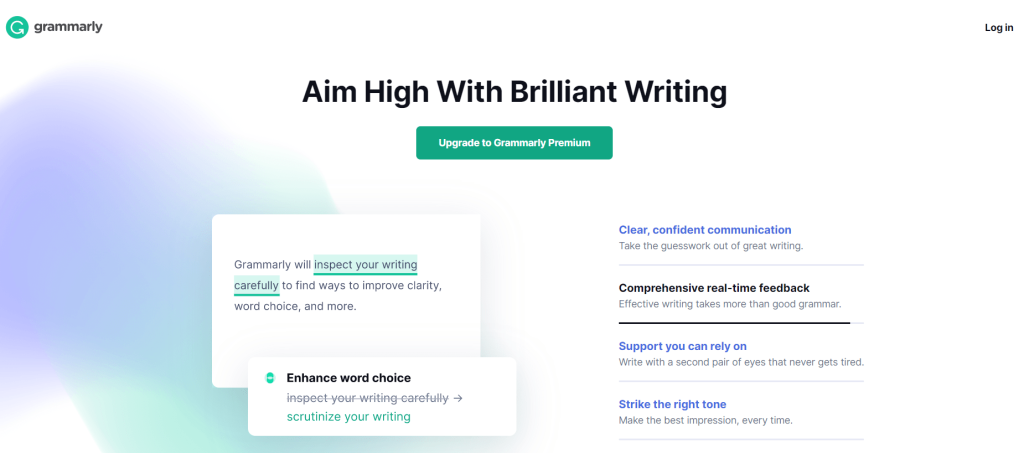 For example, the formal article you have written will get suggestions with precise words that are professional and not-so-informal to enhance your content. What's more, Grammarly Premium also integrates with Google Sheets which helps you to make changes on the go.
Style Enhancement
The style enhancement in Grammarly Premium is a top feature that will improve the readability and choice of selective words in your content.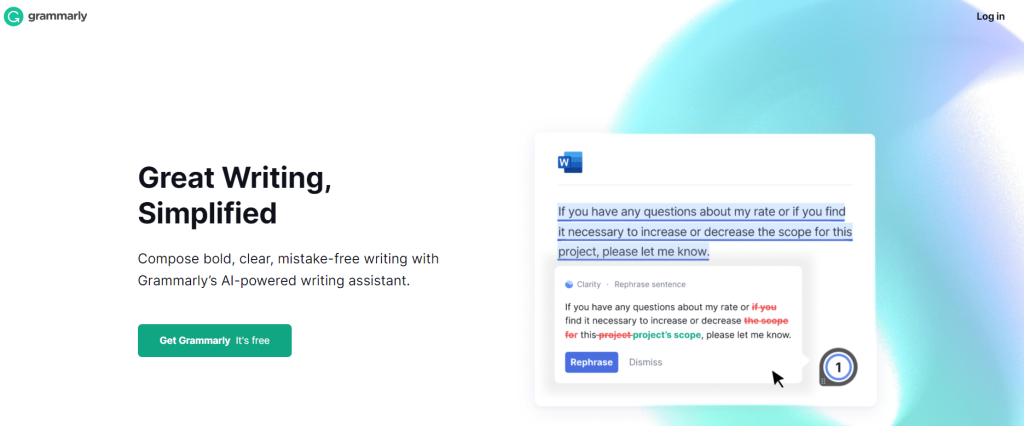 Factually, each writer has a unique and different writing style so that the AI can deduct and enhance it with better adjustments.
Performance Analysis Report
Wouldn't it be great to receive direct feedback for the work that you have done? Well, Grammarly Premium does exactly that. In fact, you also get a specific score.
The analysis report laid down by Grammarly Premium is precisely accurate and highlights everything from readability to vocabulary to the usage of rare words.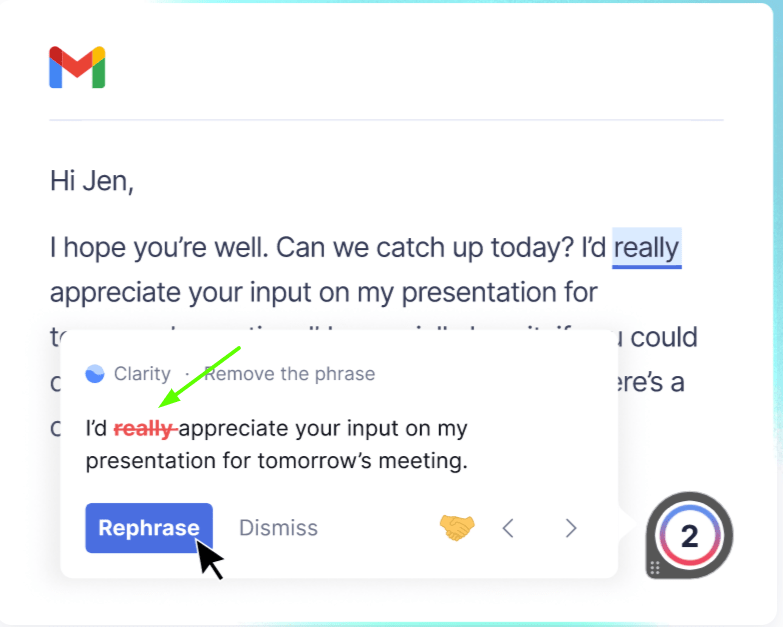 Even time schedules like reading and speaking time are taken for the content you have written are mentioned, making it easier for you to calculate the timings.
I mean, it'll be helpful if you plan to give a speech or read poetry.
Plagiarism Checker
One of the most outstanding features in Grammarly Premium is the Plagiarism checker. The robust AI in Grammarly Premium does its job perfectly well.
In Grammarly Premium, you can detect any attempted or unintentional plagiarism within seconds. Yes, you heard me. You can check for plagiarism within seconds.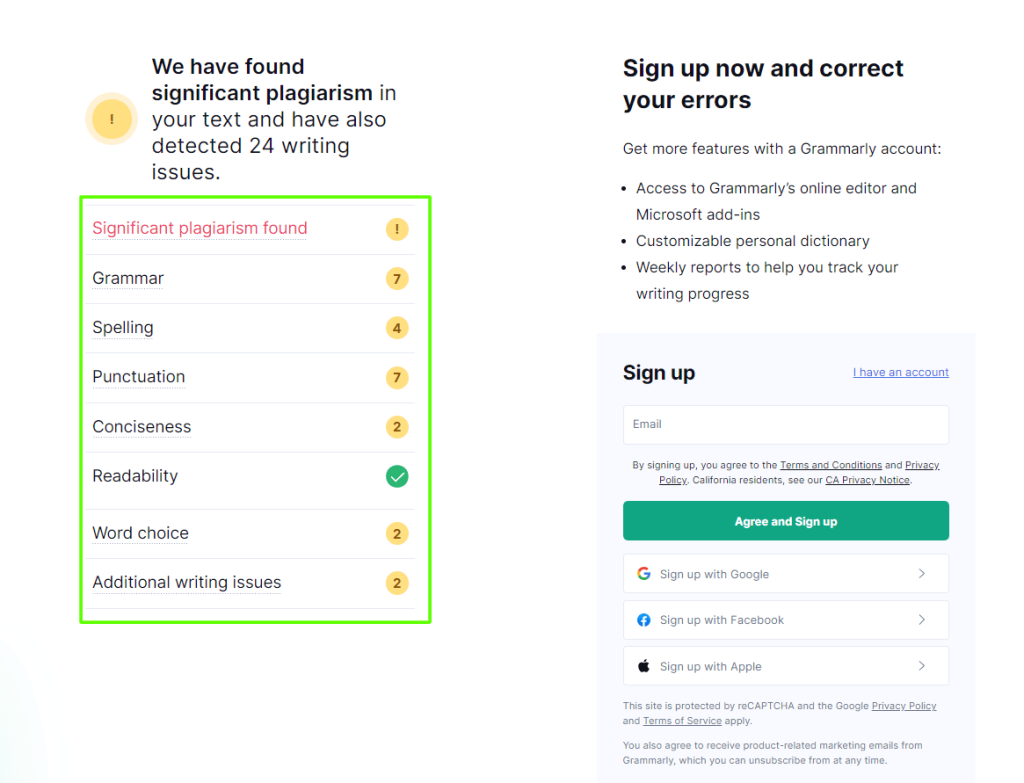 The powerful plagiarism checker in Grammarly Premium will highlight the sources from where the content was plagiarized, along with the links of the desired sites.
Expert Writing help
Although Grammarly is a personalized writing assistant that improves and enhances your writing, for some reason, if you feel like you require extra help, Grammarly Premium has got you covered with expert writing help from humans.
Yes – The expert writing help in Grammarly Premium is handled by humans who can help you fix any problematic issues with your writing and make it better for you.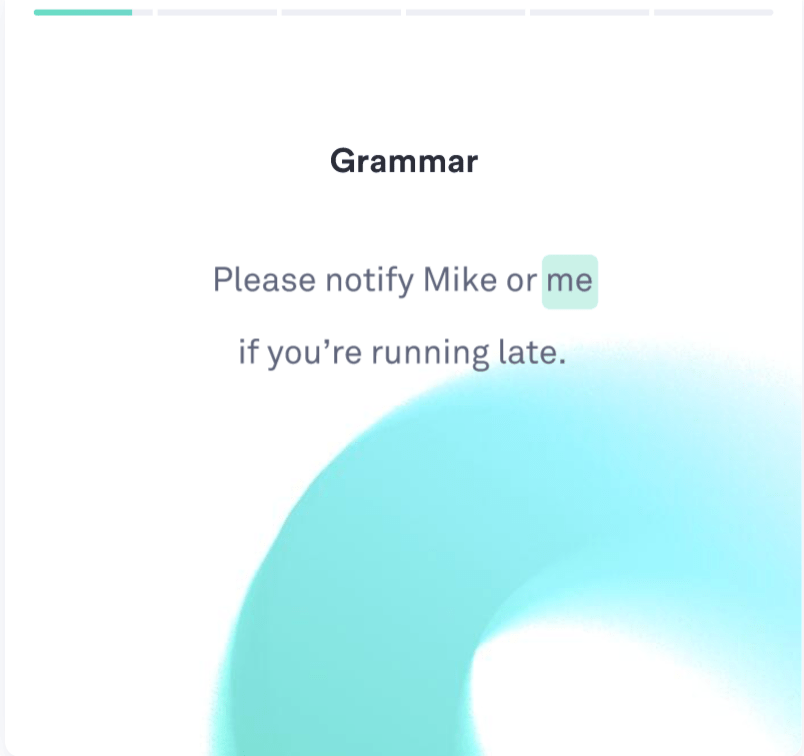 Basically, the expert writing help is like hiring a freelance proofreader/editor for your content which means it comes with a cost anywhere from $45-$117. Not very cheap!
Best Suitability: Grammarly Free vs Grammarly Premium
Grammarly is easily accessible by anyone and is open to all users, but when it comes to making choices between the standard and premium versions, it can be segregated within certain groups.
Who is suitable for Grammarly free?
Since Grammarly Free is constrained with limited features and restrictions, it is suitable for:
Students who might have trouble writing essays and assignments.
People who are miserable at texting without making any errors.
Freelance writers who would like to deliver polished content.
Who is suitable for Grammarly Premium?
Grammarly Premium is a big deal because it has got compelling features like style enhancement, advanced genre-specific suggestions, and plagiarism checker.
Naturally, people who deal with writing content on a regular basis demand a writing assistant, and so Grammarly Premium can be suitable for:
Authors, screenwriters, publishers who require proofreaders/editors.
Magazine writers and journalists who need to write compelling articles. 
Copywriters and content writers who need a professional touch.
Newly published writers who need expert writing help. 
What's The Cost Of Grammarly Premium?
Regarding the cost of Grammarly Premium, the AI-powered software lies on the expensive side but let me list all the pricing plans in Grammarly Premium so that you get an idea of which plan is the most cost-efficient and recommended for you.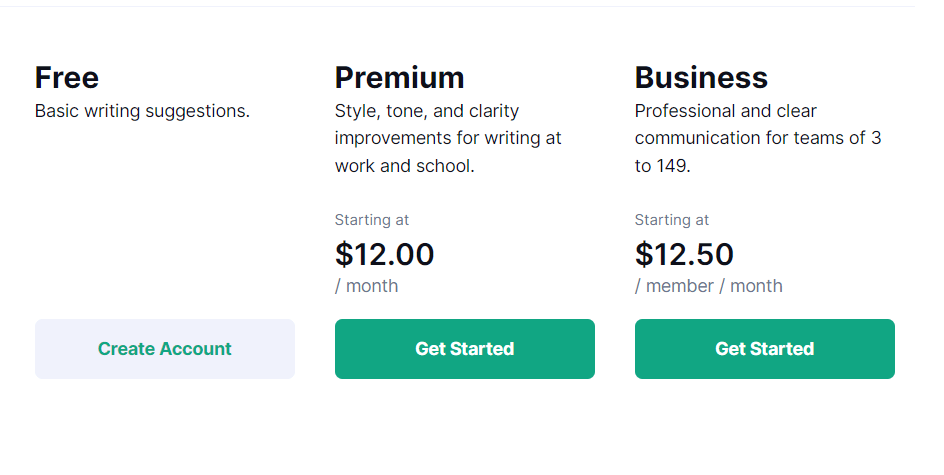 You can purchase Grammarly Premium as:
Monthly Subscription for $30/- per month
Quarterly Subscription for $60/– per three months
Annual Subscription for $144/– per year
Note: Here is our working Grammarly Discount to help you save a flat 20% on Grammarly.
That's it. There are zero hidden fees that come with the plans. Plus, the purchase you make with Grammarly is considered in your local currency, and Grammarly itself adjusts any price fluctuation in the conversion rate.
Benefits of Choosing Grammarly Premium
Throughout the article, you have gone the ultimate comparison between Grammarly Free and Grammarly Premium. Now, let me recall the benefits that you would be able to cherish with Grammarly Premium.
Your writing gets improved and enhanced with professionalism.
You will receive a performance analysis report with scores.
You will start to implement and learn newer vocabularies.
You will receive advanced genre-specific suggestions.
You can check for plagiarism within seconds.
You can detect the tone of your content.
You can seek expert writing help.
See. The benefits that you get by choosing Grammarly Premium over the standard version are remarkable, and your writing experience is redefined and smoothened.  
Related Read:
Final Thoughts on Grammarly Free vs Premium
Although Grammarly Free offered the same benefits that Grammarly Premium offered, the added advantage of other excelling features in Grammarly Premium exceeded
Grammarly Premium wins the verdict with its robust features like plagiarism checker, performance analysis report, and advanced genre-specific suggestions to wrap up the comparison.
Grammarly Premium can instantly take your average-looking content to the next level, professionally drafted content. Grammarly Premium is responsive and gets the job done perfectly with high technology and a powerful AI.
In conclusion, I'd say you can trust Grammarly Premium and use it efficiently!
FAQs
Is Grammarly premium worth it?
If you are creating content on a regular basis then you will need the features of the Grammarly premium plan to help you improve your writing. It is definitely worth upgrading to Grammarly premium.
Does the Chrome Extension check for grammatical errors?
Yes, the Grammarly Chrome Extension checks for grammatical errors on Google Docs, WordPress editor, and whenever you are writing something online. So it would be best to install the Grammarly Chrome Extension.
Does Grammarly help improve punctuation?
Yes, the Grammarly premium plan gives you in-depth suggestions to help you improve your writing that also includes punctuation.
Is there a free trial available for the Grammarly premium plan?
No, there is no free trial available for the Grammarly premium plan but they used to offer a 7-day free trial. But they discontinued in 2021 and now they offer a 7-day money-back guarantee to all their subscribers.