Are you looking for an answer to the question, "Which one between ProWritingAid vs Grammarly is better?" If yes, you have landed on the right page. When we think about using online grammar tools, the ones that instantly come to mind are ProWritingAid and Grammarly.
However, you cannot buy both subscriptions and rip out your pockets. Therefore, we are here with a detailed review and comparison between the two tools so that you can go ahead and pick the one that fits your needs the best!
In this article, we have compared both the tools side-by-side based on our experience, considering various parameters. So, are you ready to find who the winner is?
Stick to the end of the article!
ProWritingAid vs Grammarly: Key Differences
Here are a few key differences between Grammarly and ProWritingAid.
Grammarly offers you critical suggestions that can help you improve your writing, whereas ProWritingAid's suggestions can sometimes be irrelevant.
Grammarly's interface is clean and easy to use, whereas ProWritingAid's interface is not as good as Grammarly's.
After doing multiple tests, we discovered that Grammarly is great for non-fiction writing, whereas, ProWritingAid is good for fictional writing.
With Grammarly, you can find all the errors in your writing and remove them, whereas, ProWritingAid only finds errors in fragments and pieces.
You can use Grammarly's free version, which has many more features than ProWritingAid's free version.
ProWritingAid vs Grammarly: Overview
Before we dive into the details, let us first go through a quick overview of ProWritingAid and Grammarly.
ProWritingAid Overview
ProWritingAid is a style editing and grammar checking online tool. It helps you optimize your content by suggesting easy steps to improve your writing. It points out grammatical and punctuation mistakes.
ProWrightingAid helps you enhance the structure of your content overall by pointing out cliches, overuse, repetition, and long sentences. One of the best things about the tool is that it goes beyond just grammatical mistakes. It thoroughly analyses your text and identifies writing issues to improve your style and clarify the text. 
Grammarly Overview
Note: If you want to know more about Grammarly then check our in-depth Grammarly Review here.
On the other hand, Grammarly is a widely used grammar checking tool. From grammar to spelling to tone of the text, Grammarly has got you covered. Along with being an excellent grammar checker, it also features a plagiarism checker. However, this feature is only available in the premium version.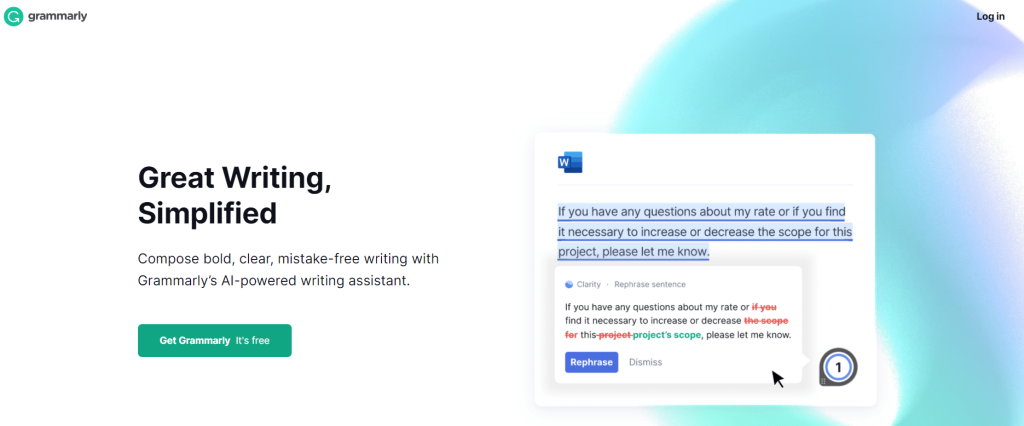 You can use the Grammarly website or take advantage of the chrome extension to directly edit your document. One of the things we like about the tool is that it tells you where you are wrong and why. It gives you tips to improve your writing and the context behind your errors so you can avoid them the next time.
ProWritingAid vs Grammarly: Key Features
Now that we have gone through a bit of introduction to both the tools, it is time to dive into one of the essential parts of the article. Let us look at the key features of ProWritingAid and Grammarly!
ProWritingAid: Key Features
Identifies overuse of passive voice.
Removes unnecessary adverbs.
Identifies duplicate words and phrases.
Removes sentences that slow down readers.
Adds variety in writing.
Resources for skill enhancement.
Word Explorer helps find the right words.
Integrates with multiple platforms.
Customization for unique needs.
Valuable insights.
Grammarly: Key Features
Genre-specific writing style check.
Plagiarism checker (checks through 16 billion content).
Vocabulary enhancement.
Integrate with Google Docs and MS Word.
Your personal dictionary.
Available to use on a smartphone.
Easy to understand explanations.
Beginner-friendly.
ProWritingAid vs Grammarly: Ease of Use (User Interface)
The user interface is an important factor in every online tool. If it is not easy to use, people won't be satisfied with it no matter how good the features are. Additionally, not all tools are made for everyone. Specific tools are more technical, while others are much simpler. Let us now look at the ease of use of these grammar checkers.
ProWritingAid Ease of Use
The user interface of ProWritingAid is not tricky to navigate. However, since we are making a comparison, it is noteworthy that the tool is not as clean as Grammarly. On ProWritingAid, the errors are shown on the left side of the screen, which is an inconvenience. Moreover, you need to click on a small arrow and hover over the text to view the mistakes or suggestions.
The interface of ProWritingAid can surely take some time to get used to. The suggestions are not displayed in a visible area. They are hidden behind a tab labeled "Improvements," which makes the process more complex than it should be. However, it is still a great tool if you can ignore these factors.
Grammarly Ease of Use
In terms of user interface and ease of use, Grammarly sure takes home the first prize. Grammarly's online editor is as clean as it can get. All you need to do to view the errors in your content is copy and paste it on the website. You can also use their upload button to upload the document directly.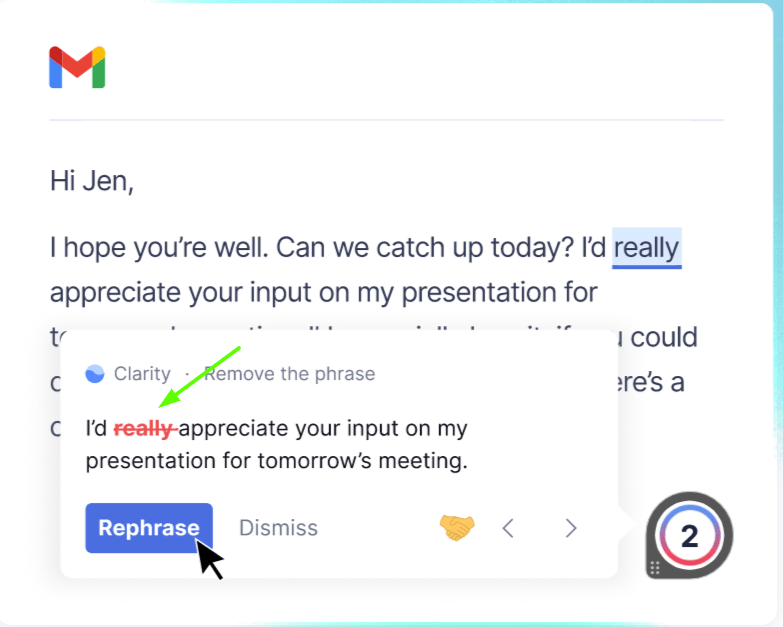 The suggestions line up on the right side of the screen as soon as you paste/upload your content. The grammatical mistakes, sentence clarity suggestions, vocabulary options, and sentence delivery are neatly categorized. If you often write content with different style needs, you can easily adjust the "goals" on the same page with no hassle.
After you are done correcting, you can also see the overall score of your content. On the same page, beneath the suggestions, is the plagiarism checking tool. All you need to do is click on it, and it will show you which sentences you need to modify.
With Grammarly, you certainly do not need to be tech-savvy to use it. You can learn to use all the tool's features within just one day.
ProWritingAid vs Grammarly: Accuracy
No grammar checking tool is worth your money if they are inaccurate. While no tool is free of errors in the world, it is essential to know which one can help you get the closest to perfection.
ProWritingAid: Accuracy
In terms of accuracy, ProWritingAid is a worthy competition to Grammarly. ProWritingAid provides more suggestions throughout the text. After using the tool, we have concluded that it is a better option for fiction writers. This is because it takes care of fragmented sentences and dialogue better than Grammarly.
ProWritingAid is an excellent tool for removing fluff from your content. It can help you deliver concise content with lesser sentences that slow down readers. With ProWritingAid, you can officially say goodbye to filler words.
Grammarly: Accuracy
Grammarly catches many major and minor errors that the human eye often overlooks. It also provides valuable suggestions and tells you how to avoid the same mistake again. Therefore, the tool can be considered highly accurate, yet it is not perfect.
Grammarly produces fewer mistakes than ProWritingAid. Moreover, many of its suggestions seem to change the meaning of the sentences. Its faulty algorithm leads to inappropriate suggestions and can sometimes make you doubt your grammatical skills.
To conclude, Grammarly is accurate but far from being a replacement for the human eye. With Grammarly, it is always better to trust your gut than blindly trust the tool.
ProWritingAid vs Grammarly: Plagiarism Checker
Checking plagiarism for content is as vital as checking the grammatical errors. You want to make sure the tool you use detects all plagiarised content to avoid trouble.
ProWritingAid Plagiarism Checker
ProWritingAid is an excellent choice for correcting grammar and polishing your content. However, if you need to use the plagiarism checker for good customer service, you need to look in a different direction. When it comes to plagiarism, you cannot afford to make even a minor mistake.
Grammarly Plagiarism Checker
Grammarly sure is at a higher level than ProWritingAid in terms of plagiarism. However, even it is not entirely perfect. Grammarly cannot protect you from all the plagiarism issues and shows inaccurate data.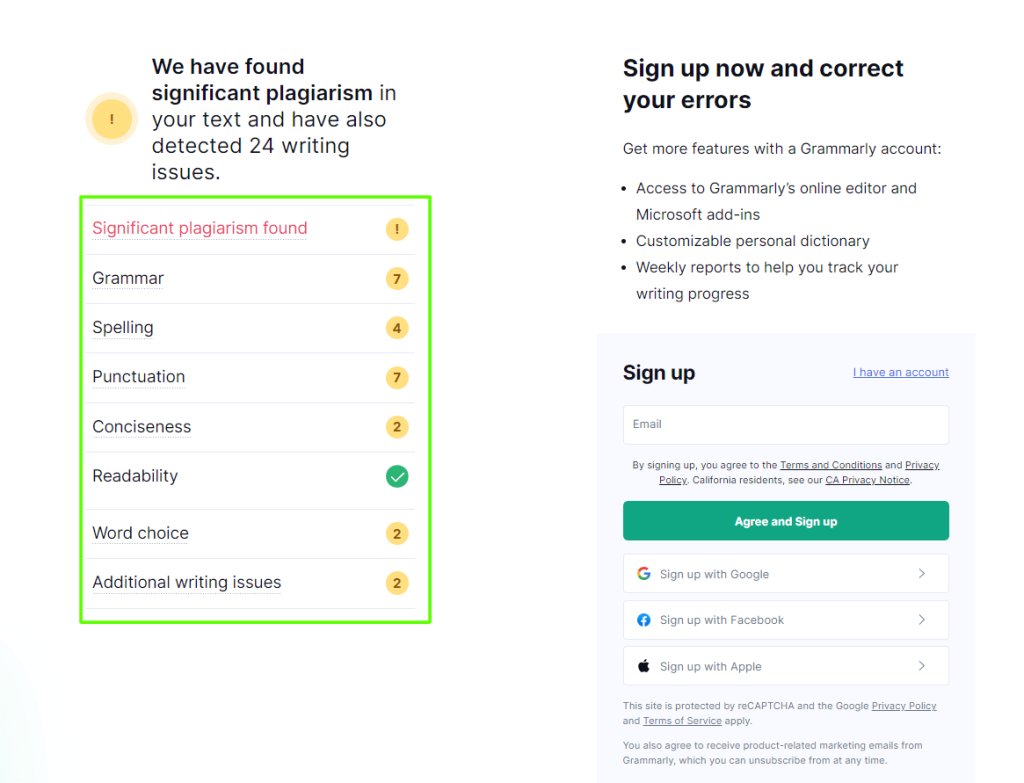 Even though the tool scans your content through billions of pages, it is not 100% reliable. When it comes to ranking on search engines, you cannot afford to leave out even one plagiarism issue. Therefore, we recommend you opt for Copyscape as it is more accurate.
ProWritingAid vs Grammarly: Integrations and Plugins
Integrations are essential because they increase your functionality and ease the tasks. The more integrations and plugins allowed, the easier you can use the tool.
ProWritingAid Integrations and Plugins
ProWritingAid offers more integrations than any other grammar checking and editing software. The Chrome extension lets you edit wherever you write online, whether a Facebook caption or a Gmail. The Microsoft Word plugin directly integrates into your Word Processor. Other integrations include Open Office, Rich Text, HTML, Scrivener, and Markdown.
Grammarly Integrations and Plugins
Since ProWritingAid has more integrations than any other software, it is pretty clear that Grammarly has been defeated in this aspect. However, it also has some excellent features. The Grammarly Chrome plugin works with email, Google Docs, WordPress, etc. They also offer Microsoft Word and Outlook plugins and have a mobile version of the tool.
ProWritingAid vs Grammarly: Customer Support
Online editing tools are not perfect, and you might encounter a problem anytime. If you are experiencing glitches in the system, it is vital to access the support team quickly. Let us look at how ProWritingAid and Grammarly handle customer queries.
ProWritingAid Customer Support
ProWritingAid has several FAQs on its page to help you with your issues. If you cannot find your answer there, you can reach them via the contact page and email. On their contact page, there is a box where you can enter all your questions, queries, and issues. One of the team members should get back to you shortly. It is noteworthy that they do not offer a human chatbox or phone number.
Grammarly Customer Support
Grammarly provides a support page where you can find answers to various issues, such as billing, tutorials, canceling a subscription, etc. There is a search box where you can write your issue, and the answer will pop up. If you do not find your answer there, you can submit a ticket or send them an email.
ProWritingAid vs. Grammarly: Pricing
Pricing is one of the main components when looking for an online grammar tool. There is no point in comparing tools if you cannot afford them.
Before heading further, it is noteworthy that both the tools offer a free version. If you do not have the budget to buy a subscription, you could always take advantage of the free resources. However, this version only offers limited checks and features. You need to upgrade to the pro version to access the complete package.
Comparing the free versions, Grammarly is ahead of ProWritingAid. While the latter only allows checking 500 words, Grammarly has no limit. Let us now look at the pricing plans of ProWritingAid and Grammarly.
ProWritingAid Pricing
ProWritingAid offers three subscription plans. They are:
Monthly subscription- $20
Yearly subscription- $79
Lifetime subscription (One-time purchase)- $399
Grammarly Pricing
Related Read: Grammarly Free vs Premium
Grammarly offers two subscription plans. They are: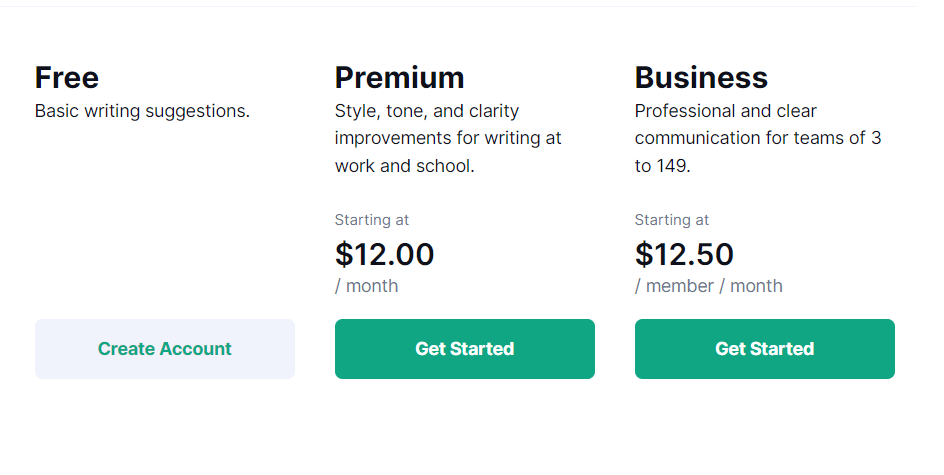 Premium- $12/month
Business- $12.50/member/month.
Note: The subscription price mentioned for Grammarly is for the annual plan. The pricing may vary depending on the length of your plan. If you're planning to choose Grammarly then save a few bucks on your purchase with our Grammarly Discount offers.
ProWritingAid vs Grammarly: Pros and Cons
A comparison between two tools is incomplete without a pros and cons section. Grammarly and ProWritingAid are excellent tools, and it can be challenging to pick just one. Weighing down the pros and cons can help you make a decision.
ProWritingAid
Pros:
More features than its alternatives and competitors.
Twenty different reports to improve your content.
Cheaper than its competitors.
The most number of integrations.
Cons:
Slower editing than Grammarly.
No plagiarism checker in the free version.
No mobile application.
Grammarly
Pros:
Quicker checking and editing.
User-friendly.
Beginner-friendly.
Document storage within the tool.
Real-time editing in a document.
More accurate and useful for non-fiction writers.
Cons:
Sometimes errors are not reliable.
The free version only allows grammar and spelling checks.
The chrome extension does not work on certain websites.
Related Read:
Wrapping Up: ProWritingAid vs Grammarly (2023)
After conducting a thorough comparison of both tools, we can say that Grammarly and ProWritngAid are excellent at what they do. We have provided all the information regarding accuracy, ease of use, pricing, etc., which will hopefully help you come to a final decision.
Grammarly is entirely accurate and easy to navigate. However, the price point may be uncomfortable for some people. On the other hand, ProWritingAid is cheaper and provides more integrations. However, it can give you a hard time getting used to the platform simultaneously.
In the end, we would recommend picking the one that suits your budget the best. Both the tools are good with only a few differences. Whichever one you choose, you will experience an improved writing style! Either way, we highly recommend going with Grammarly since we have been using it for years, and we haven't encountered any specific issues with this excellent tool!
We hope this article helped you decide which tool is worth it. Which tool are you picking? Let us know in the comments section below!
FAQs On ProWritingAid vs Grammarly
Which tool is better- ProWritingAid or Grammarly?
Both the tools are great, but ProWritingAid is slower than Grammarly. Grammarly completes the work almost instantaneously. 
What are some alternatives to Grammarly and ProWritingAid?
Some good alternatives to Grammarly and ProWritingAid include WhiteSmoke and Ginger. 
Is ProWritingAid affordable compared to Grammarly?
Yes, ProWritingAid is cheaper compared to Grammarly because it only costs $20/mo, whereas Grammarly's monthly price is $30/mo.
Can I use ProWritingAid and Grammarly together?
Yes, you can use Chrome Extensions of both Grammarly and ProWritingAid, but it will only make your life difficult because it will double underline your text for a single mistake, and even if you make the changes from the one, the other one will still be there.
Which tool has a better free version: Grammarly or ProWritingAid?
With Grammarly's free version, you will be able to find any grammatical and spelling mistakes in your text, which they will also offer solutions to resolve it. ProWritingAid also offers similar features in their free version, but they have a word limit of 500 words on their website.
Which one has a better plagiarism tool: ProWritingAid or Grammarly?
Both tools offer a plagiarism checker, but both of them are not as good as other plagiarism checkers available on the internet. However, Grammarly's plagiarism checker can identify the plagiarized text and show the original source of the text much better than ProWritingAid.