Grammarly was ranked number one on my list of best grammar checkers online. While it is immensely popular, it may not be right for everyone.
With a plethora of options in the market, you can find various Grammarly alternatives that will provide you with accuracy, reliability, and even offer similar/better features.
In the last three years, I have experimented with various alternatives to Grammarly, and based on my experience, I have handpicked the top 13.
This article will include free and paid Grammarly alternatives, along with a quick guide to help you select the right alternative according to your needs.
So, let's get into the details!
List Of The Top 12+ Grammarly Alternatives In 2023:
Whatever your reason for looking for a Grammarly alternative is, I have shortlisted some of the best tools in the market.
If you are looking for an alternative due to Grammarly's expensive pricing, we have our exclusive Grammarly Premium discount. Using our discount, you can save up to 20% on all the plans. This means you can get Grammarly Premium at as low as $9.60/month.
Here is an overview of all the top Grammarly alternatives!
| | | |
| --- | --- | --- |
| Sr. No | Grammarly Alternative | Price |
| 1. | ProWritingAid | $20/month |
| 2. | Quillbot | $7.95/month |
| 3. | Ginger | $24.99/month |
| 4. | WhiteSmoke | $11.50/month |
| 5. | Hemingway Editor | Free |
| 6. | Sapling | $25/month |
| 7. | PaperRater | $14.95/month |
| 8. | Language Tool | $24.99/month |
| 9. | Linguix | $30/month |
| 10. | Jasper AI | $49/month |
| 11. | Wordtune | $24.99/month |
| 12. | Writer.com | Free |
| 13. | Slick Write | Free |
---
1. ProWritingAid
ProWritingAid ranks as the best Grammarly alternative due to its excellent features and capabilities. Out of all the tools in the market, ProWritingAid gives the closest comparison to Grammarly Premium.
With a strong security protocol, there is no way your writing gets leaked from ProWritingAid. This is something that is lacking in several writing applications.
It lets you proofread and edit your content as you write in real-time. To put it simply, ProWritingAid is a revised version of Grammarly.
Using ProWritingAid, you can watch out for various aspects like overused words, cliche statements, style enhancement, word repetition, alliteration, and sticky words.
Although ProWritingAid has a plagiarism checker like Grammarly, you also get a breakthrough feature like Theasarus support, which is stronger than Grammarly.
Furthermore, you also get data visualization that gives detailed readability reports with appealing graphics and a customizable writing dictionary that you can tailor accordingly.
Coming to its drawbacks, ProWritingAid doesn't have a mobile application like Grammarly. This can make it challenging for people who want an alternative for their phone. You can only use ProWritingAid on your laptop. Additionally, the interface of ProWritingAid is simple to navigate, but the design looks cluttered.
The interface is packed with too many options at the top, making it confusing to understand and overwhelming. However, once you get used to it, you will find ProWritingAid quick to use, but for me, the interface really holds me back.
I have done a detailed comparison between ProWritingAid vs Grammarly that you can check out. The article will give you a comprehensive understanding of the major differences and similarities.
Key Features:
You can take ProWritingAid wherever you write, which means you have many integration options like Mozarella Firefox, Google Chrome, and Microsoft.
You can get your writing graded by ProWritingAid and receive a detailed report with specific insights and ground levels that you need to improve.
You don't have to search for each word in Google since ProWritingAid has an excellent Theasarus support feature within the platform itself.
You can write and edit simultaneously in ProWritingAid without any hassles.
You can bring a unique style to average content with ProWritingAid.
Pricing: ProWritingAid has exciting deals where you can pay $399 and get lifetime access. If you'd like to go for a subscription service, you can pay $20/m as a monthly subscription or $79 annually ($6.58/m) as an annual subscription in ProWritingAid.
---
2. Quillbot
Popularly known for its paraphrasing capabilities, Quillbot has a built-in grammar checker that has excellent accuracy compared to Grammarly.
One thing I have noticed about Quillbot's grammar checker is that its grammar checker is really good and provides similar features to Grammarly Premium, even with its free version!
You can also rephrase your content in multiple ways and make it sound different in each mode. For instance, you can choose modes from formal to simple to creative.

Even if you'd like to improve fluency and readability in your content, Quillbot can do it accurately with zero errors and mistakes. The best part about Quillbot is the synonym customization tool that allows you to choose the vocabulary enhancement range.
You get AI-powered thesaurus support in Quillbot that suggests the most appropriate words while editing or proofreading your content without removing the keywords.
From Google Chrome to Google Docs, Quillbot can be integrated into a click.
To learn more about the differences and understand which one is right for you, head over to our in-depth Grammarly vs Quillbot comparison.
Key features:
Your proofreading gets better with the right tools in Quillbot.
Use Quillbot to transform the tone of your content instantly.
Finding trouble reading long-form content? Quillbot's summarizer can help.
Stretch or shorten your content without destroying the context using Quillbot.
Get insightful statistics of your content in a report from Quillbot.
You can spot the changed and unchanged words after proofreading.
Pricing: To give a heads-up, Quillbot is available for free.
There are no big limitations in the free version, and you have plenty of features. Still, Quillbot Premium has the added advantage of unlimited paraphrasing and unlocks all the writing modes at once. There's more. You can also compare different modes.
You have to pay $7.95 monthly or $29.95 quarterly, or $39.95 annually to use Quillbot Premium. The best part about the Quillbot Premium is that you can pause it anytime!
Quillbot also agrees to refund 100% of your purchase within 3 days.
3. Ginger
Ginger is a powerful grammar-checking software that edits your content by analyzing the context of your content instead of focusing on the words used.
Although the grammar checker in Ginger might exceed your expectations, you can also rephrase confusing sentences instantly. If you are a non-English speaker, checking for grammar can be a pain in the bum, but Ginger can help you.

With the translation tool in Ginger, you can edit out the errors and mistakes made in the foreign language and translate them into English with a click. It's that simple.
Unlike Grammarly, Ginger does not only help in perfecting your English but also educates and improves your English vocabulary by offering English tips.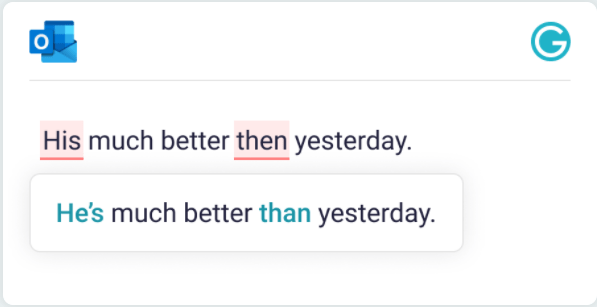 In fact, there is a dedicated writing center called Ginger Writing Center, where you get insightful tips on writing a resume, an essay, or even a business letter for a company.
The ease of use in Ginger is impressive as you can access Ginger anywhere. The integrations of Ginger include Facebook, Twitter, WhatsApp, WordPress, and more.
Want to know how they stand against each other in detail? Roll over to our detailed Ginger vs Grammarly comparison!
Key features:
You can edit with confidence since Ginger analyzes your content's context.
You will get synonym options on any word in your content using Ginger.
Rephrasing could not get any better with Ginger since it is quick and fast.
You can go anywhere, yet Ginger will still be integrated into the platform for you.
If you are new to writing, the Ginger Writing Center can guide you efficiently.
Translates up to 40 languages easily.
Pricing: Although Ginger has premium plans, you can use them for free with limited features. Still, if you are a student and need a writing assistant only for essays, the free version of Ginger would be an appropriate option.
Regarding Ginger premium, you have to pay just $7.49/m for the annual plan, $11.19/m for the quarterly plan, and $13.99/m for the monthly plan. As you can see, the price increases as the period decreases. Yet, the annual plan is recommended.
Try Ginger Premium once and use the 7-day money-back policy if you are skeptical.
---
4. WhiteSmoke
WhiteSmoke is an old-school software that still runs efficiently.
Although WhiteSmoke can seem a little dull in the interface and design aspect, it gets the job done. Yes, you will not be disappointed using WhiteSmoke.
WhiteSmoke looks out for the punctuation, spelling, style, and grammar in your content and helps you improve your content. The one thing that still holds the credibility in WhiteSmoke is its translator tool, which can translate up to 55 languages.
Using WhiteSmoke, you can either translate the entire content or check from word to word. In fact, WhiteSmoke shows examples for each translated word.
Check out our detailed Whitesmoke vs Grammarly comparison to select the right tool for you!
Key features:
Instantly start your writing journey with 100+ text templates in WhiteSmoke.
If you are not sure about your content, watch instant video/text tutorials and let WhiteSmoke guide you through every step.
WhiteSmoke can spot all the duplicate content at a glance and save time.
You do not have to worry if your content is not in English; WhiteSmoke can help in proofreading up to 50 universal languages.
Brush up your content style better using WhiteSmoke's style checker.
WhiteSmoke can proofread your entire content in a click and report it to you.
Pricing: WhiteSmoke is budget-friendly, yet you have to pay to access WhiteSmoke Web. The pricing starts at $5/m for WhiteSmoke Web, $6.66/m for WhiteSmoke Premium, and $11.50/m for WhiteSmoke Business. WhiteSmoke Web is very basic.
Only WhiteSmoke Business has a customer support and an extended download warranty.
---
5. Hemingway Editor
Hemingway Editor helps you in simplifying complex sentences from your text. It also gives you suggestions to remove wordy sentences from your content, such as Grammarly. That's why it is the perfect alternative to Grammarly.
Hemingway focuses on improving the readability of your content. It doesn't focus on correcting your grammar or writing errors because the sole focus of this tool is simplifying complex sentences.
The Hemingway rephraser will point out any passive voice, lengthy sentences, and hard-to-read sentences you have used in your text. With the Hemingway app, you can directly correct these errors on your WordPress editor or Medium.
You can also start writing on Hemingway Editor without paying anything because it is totally free of cost.
Key Features:
The editing features of Hemingway editor are much better than MS. Word.
The interface is really easy to use.
You can use the Hemingway App without an internet connection.
It also allows you to export your content directly to any third-party editor.
Use the Hemingway Highlights to show the improvement in your content to your colleagues.
Pricing: You can use Hemingway Editor on the web free of cost. They also offer a desktop app for Mac and Windows for just $19.99 once.
---
6. Sapling
If you're looking for free grammar-checking software similar to Grammarly, then Sapling is the one for you. It is an AI-powered writing assistant that focuses on enterprises. It catches over 60% of language issues than other grammar checkers. It uses a machine-learning system that is trained in millions of English sentences.
It is a Chrome extension that you can use across multiple text-based apps such as Google Docs, Gmail, Zendesk, and so on. It helps you avoid typos that might embarrass you in front of your customers. This grammar checker tool works really well with CRMs and other messaging platforms that can help customer support and sales teams in sending more personalized messages.
Its Sapling suggests tool can help you reduce the response time so that you can reply to customers ASAP whenever they send a request. The autocomplete Everywhere tool provides suggestions for incomplete sentences so that you can form sentences quickly and respond.
Sapling helps you increase efficiency and customer satisfaction by simply reducing the repetitive messaging so that your team can focus on customers' real problems and give them solutions quickly.
Key Features:
Major focus on customer support teams.
Snippets automate the common phrases, and you can create snippets and share them with your team.
The autocomplete feature is similar to Gmail's autocomplete feature, which predicts the response before you finish the sentence.
Sapling offers a 30-day free trial of their Pro version without asking for any credit card info.
You can use Sapling as a Chrome Extension and add it to Microsoft Word and Outlook.
The infrastructure of Sapling is enterprise-grade so it can handle large amounts of data easily.
Pricing: Sapling comes with a free plan that allows you to download the Chrome Extension and add it to Outlook and Word. The Pro plan costs $25/mo, which you can try for 30 days before purchasing. For the Enterprise plan, you need to contact their sales team.
---
7. PaperRater
PaperRater is a free plagiarism & grammar checker tool that you can use online. It is designed to help students in reviewing their assignments and essays. PaperRater is a perfect free alternative to Grammarly for students because its grammar checker tool can help students in a way that Grammarly can't.
Being a free tool, PaperRater does not have the advanced features that most tools have that are listed here. But it is a decent tool for anyone who wants to remove grammatical errors from their text and also check it for plagiarism.
The plagiarism checker checks the uniqueness of your content and lists the URLs that have matching content from your text. But it will not show you what texts are matching in those URLs; for that, you will need the premium version.
When you enter your text in the box, you also need to enter the education level of the author of the text and choose the type of paper you are submitting. You can also check the plagiarism of your text directly on Paper Checker.
Key Features:
The grammar checker of PaperRater is powered by AI, so it can easily detect grammatical errors.
It shows you the uniqueness of your text when checking it on the plagiarism checker.
Get writing suggestions to improve your writing.
The scoring system shows a score of your writing on the paper grader.
Get matching text displayed on the screen when you are checking your text for plagiarism.
Pricing: The tool is completely free to use, but there is a premium version available that costs $14.95/month or $95.40/year and gives you advanced features to use.
---
8. Language Tool
Language Tool is a tool that has similar features to Grammarly. Similar to Grammarly's free version, Language Tool's free version offers spelling correction, solutions to grammatical mistakes, and punctuation. The best part about this tool is that you can check content in more than 20 different languages.
In the free version, you will also get basic style suggestions, such as removing redundant words and changing the sentences from passive voice to active voice. It also has a feature called "Picky Mode," which allows you to find more mistakes in your content.
It also comes with a browser extension that you can use on Chrome, Safari, Firefox, and Microsoft Edge. Just like Grammarly, you can use Language Tool's add-on on Google Docs and Microsoft Word as well.
This tool's interface is a mixture of Hemingway editor and Grammarly. It also provides a detailed summary of the mistakes in your text. It also comes with a premium version, which gives you features like sentence rephrasing with AI, a personal style guide, agreement errors, semantics, and format & typography.
Key Features
Browser extensions for Safari, Firefox, Microsoft Edge, and Chrome.
Supports more than 25 languages.
Check up to 150K characters per text field.
Personal dictionary for the words you want the Language tool to recognize.
AI sentence rephrasing tool.
Pricing: The premium plan of the Language tool for individuals starts at $24.99 per month. The quarterly pricing is $44/quarter, and the annual pricing is $69.99/year.
---
9. Linguix
Linguix is another great alternative to Grammarly, which is made for non-fiction writers. Just like Grammarly, Linguix also comes with a free version that allows you to fix basic grammatical mistakes in your text. In the premium version, you get access to a spelling checker, paraphraser, style checker, and so on.
It also shows the statistics of your document, such as the lengths of your sentences and the readability of your text. This high-level approach Grammarly does not offer at all. You will not get access to all the suggestions in the free version, just like Grammarly. To unlock all the suggestions, you need to buy the premium version.
There is no way to upload your document to the Linguix editor. You will lose all the formatting of your text when you copy-paste it into the editor.
Key Features:
Check the spelling of your text and improve it using the free AI grammar checker.
Linguix comes with an extension for Edge, Chrome, and Firefox.
Shows the quality score of your content.
Rewrite sentences that are hard to read.
Create your own style guide to create your brand voice.
Pricing: Linguix comes with only one premium plan option, and it is called the Pro plan. It costs $30/month; you can pay it quarterly at just $20/month, or you can pay it yearly at just $10/month.
---
10. Jasper AI
Compelling AI writing software like Jasper AI is programmed with an in-built writing mechanism that curates content 5x faster.
Jasper AI writes 100% original content, which means there is no room for plagiarized or duplicated content since Jasper AI will automatically eliminate them.
Blog posts? Ad campaigns? Product descriptions? Long-form content? Jasper AI has covered all writing formats and templates, so you are not left behind.
Even if you aspire to rank at the top in the Google search results, Jasper AI will produce SEO-optimized content so that your content stands out from the rest.
Lastly, Jasper AI breaks the language barrier and supports 25+ languages globally.
Key features:
Even if you had written a rough copy, the content improver in Jasper AI will enhance your content and improve readability for better conversions.
Jasper AI will deliver your content within 5-10 seconds in just a click.
You do not have to worry about ranking since Jasper AI is SEO-friendly and uses several optimization tools to build robust content for you.
With an abundance of templates, you have ready-to-use drafts in Jasper AI.
Commands like Jasper AI recipes are available to communicate with Jasper AI instantly if there is a content requirement for you.
Pricing: Unfortunately, Jasper AI comes with paid versions only. Still, you have great deals in Jasper AI that are quite affordable. You can buy the starter plan at $29/m.
Or you can opt for the premium plan (boss mode) at $59/m.
Note that only the premium plan unlocks an in-built plagiarism checker, Jasper AI certifications, and revision history. In contrast, the starter plan in Jasper AI gives 50+ AI copywriting skills and 20,000 words. You also get exclusive AI-Bootcamp access.
Jasper AI guarantees a 100% refund if you don't like using it.
11. Wordtune
Wordtune is not a dedicated grammar checker. Instead, it is a comprehensive AI writing assistant which works exceptionally well. Fueled by its AI powers, Wordtune lets you write engaging and high-quality content in seconds.
The tool provides different features inside -AI writer, rephraser, summarizer, etc. While it doesn't specifically provide a grammar checker, the content it will create is error-free and grammatically correct.
You can also use Wordtune as a replacement or alternative to GrammarlyGO. Compared to GrammarlyGO, Wordtune provides additional features and better results.

Additionally, the user interface of Wordtune is clean and clutter-free. You can give it a prompt, and the tool will generate the results in a few seconds. Moreover, you can also use Wordtune to repurpose your existing content. For instance, if you want to use existing content somewhere else without plagiarism, you can take advantage of its rephraser. It will automatically create unique content.
You can integrate Wordtune into Google Docs, Gmail, WhatsApp, Twitter, and LinkedIn.
Key features:
You can decide the tone that you want in your content using Wordtune.
If the word count is a problem, you can fix it using expand/shorten features.
Wordtune lets you rewrite or rephrase any content that you want.
You can access Wordtune anywhere using web and browser integrations.
Edit your grammar and proofread your content using the Wordtune editor.
Pricing: Wordtune offers a free version that is restricted to 20 content creation per day. This is ideal for users with no major requirements. However, you can upgrade to the paid version starting at $9.99/month.
12. Writer.com
Another free Grammarly alternative that you can try is Writer.com. This excellent tool has one of the most straightforward and beginner-friendly user interfaces. To begin checking your content, you can copy and paste it on the website.
It will automatically run checks, and the errors will be visible on the right side of your screen. The errors are underlined, and you can tap on them to see the suggestions.
Moreover, it also has a Chrome extension, which allows you to add Writer.com directly into your Chrome. However, I found a few drawbacks in this free grammar checker.
Compared to Grammarly, it missed out on many punctuation errors. Grammarly Premium detected various punctuation and spelling errors throughout the content, whereas Writer.com failed to point them out.
Writer.com is more reliable for spelling mistakes than punctuation marks. However, if you do not want to spend money on a grammar checker and you write for work, Writer.com is an amazing alternative.
Key Features
Helps with word choice and terminology to choose the right words.
Tone detector to help you write in the appropriate tone.
Provides customized content guidelines.
Integrates with Google Docs, Chrome, and Word.
Built-in plagiarism checker.
Price: Writer.com's grammar checker is free to use. However, if you want to use additional features of the tool, you can upgrade to the premium plan at $18/user/month.
13. Slick Write
Slick Write is yet another robust free alternative to Grammarly. With a simple and intuitive UI, you can directly start checking your content. Slick Write is ideal for marketers, SEOs, professionals, writers, students, and more.
Additionally, Slick Write is highly secure and doesn't put your content at risk. Talking about its accuracy, it works decent, considering it's a free tool. Moreover, Slick Write works best for teams due to its dedicated features to track the activities of your teammates.
The only drawback I found while using Slick Write is the interface is outdated. Although it is easy to use, the design is outdated and can make your experience boring.
Key Features
Offers Chrome and Firefox extensions.
Detailed analytics and reports.
Provides features for teams to help you easily manage them and their work.
Quick export feature to save the edited document.
Allows you to write directly into your dashboard.
Price: Slick Write is free to use.
Explore more writing tools based on your requirements:
Final Thoughts: Best Grammarly Alternatives (2023)
All these tools on the list offer excellent features and work perfectly well as alternatives. To make your choice easier and narrow down your pick, here is a quick summary with recommendations.
ProWritingAid: Overall, the best Grammarly alternative
Quillbot and Hemingway: Best free Grammarly alternative
LanguageTool: Best multilingual grammar checker
Writer.com and Slick Write: Best alternative to Grammarly for teams.
Wordtune and JasperAI: Best AI-powered alternative
Ginger and Sapling: Best beginner-friendly choices
Since most options come with a free version or trial, the best way to choose the right Grammarly alternative for your needs is to test them out! A quick test with each tool will help you know which tool works best for you.
FAQs on Best Grammarly Alternatives
Which is the best free Grammarly alternative?

ProWritingAid, Hemingway Editor, and Quillbot are some of the best free Grammarly alternatives. You can opt for the free version, which gives similar features to Grammarly without charging a single dollar. 
Which is the best Grammarly alternative?
Depending on your requirements, the best Grammarly alternative will vary. However, ProWritingAid and Quillbot's grammar checker works as the best Grammarly alternative for me. 

How to find the best Grammarly alternative?
Narrow down your requirements from a grammar checker and shortlist the features missing in Grammarly that you need. Next, you can pick the right alternative from the list above based on your budget and requirements. Since most of them offer a free version/trial, you can test them out to see how they work for you!

Is ProWriting better than Grammarly?
ProWriting and Grammarly have a lot of similarities. However, Grammarly works as an all-in-one writing assistant, whereas ProWritingAid works best for proofreading your content.